Genealogy of the Percy, Williams & Ward Families


(version March 4, 2019)
Please email corrections to Mike Clark



The Ward, Williams and Percy families are a long line of very well-known, 19th century London engravers and painters who descend from James Ward, senior and his wife Rachel Goldsmith,the earliest ancestors for whom we know more than just a name and a date. Although neither James nor Rachel can be described as artists, the engravings and paintings of their descendants are much sought after in the art world, and command high prices at some of most prestigious auction houses of today. Family histories are given below, and there is another section (WORK IN PROGRESS) that displays some of the Paintings of Williams Family, and discusses some of the artistic aspects of their careers. There is also a Wikipedia Article on the Williams Family of Painters.
James Ward, Senior (d. c.1796) was probably born sometime in the 1730s in the City of London, which refers to that part of the medieval city that was once enclosed by the now demolished London Wall. He gained employment as a young man with the 'Cider and Fruit Merchants', a firm located near Thames Street on the north bank of the Thames River. His son James remembered him as being good with his hands, and quite industrious in his early years, such that he rose to the position of a foreman with his company, and he might have been destined for greater things, had he not turned to drink. He was ultimately let go by the firm, and never regained meaningful employment. Indeed, had it not been for the successes and subsequent support of his children, he would lived out his remaining years in poverty. As it was, his son James remembered his father as sitting in his later years by the fireplace in a drunken stupor, smoking a long pipe with a jug a ale at his side, as shown here in a sketch by the younger James.

James Ward, Senior married a pious woman named Rachel (Rachael) Goldsmith (1737-1835) on Feb. 21, 1762 at the St. Leonard Shoreditch Church in the Hackney borough of London. Rachel, was the daughter of a tin and copper plate worker named John Goldsmith and his wife Ann. She was born on Aug. 21, 1737 in London, and baptized at the St. Giles Cripplegate Church the next day. An older sister named Ann, who was baptized Aug. 29, 1729 at the St. Botolph without Aldersgate Church, later married James Ward's older brother Thomas. Another sister named Mary Goldsmith, who was baptized Jan. 30, 1731 at St. Botolphs, married a copper-plate printer named Daniel Gent (c.1732-1782) on July 25, 1755 at St. Giles, Camberwell Church in the Southwark borough of London. This Daniel Gent, who is referred to by James Junior as 'Uncle Gent', had a shop on George Street in central London and is said to have invented a color printing process. However, of more importance, he probably had connections in the engraving business that helped his nephews gain apprenticeships in that trade.

Although nothing is known of the parents of James Ward Senior, he appears to have had at least one older brother, and there is some evidence of perhaps two older brothers. 'Uncle Thomas', of whom we have already mentioned, lived near James' household and is said to have been a pious member of a local church. Thomas married twice, first to a woman of whom we know nothing, then after her death he married his sister-in-law Ann Goldsmith on June 23, 1771 at same church where James and Rachel Ward wed. In fact, Rachel was a witness at her sister's wedding. Uncle Thomas died in the late 1770s, perhaps very early 1780s, leaving behind a young son from his second marriage. Another brother named William apparently was religious also, and he may have had a daughter named Mary Ann, nicknamed Emma, who became the first wife of James Ward, Junior. However, others dispute that Uncle William was Emma's father. It should be noted that many of the stories that Frankau (1904) attributes to Uncle Willliam, Grundy (1909) attributes instead to Uncle Thomas, which leaves one wondering if there were indeed two uncles, or only one.

The elder James Ward died sometime after the 1795 marriage of his son James to his first wife Mary Ann (Emma) Ward. Rachel Ward survived her husband by many, many years. Her great-great grandson Leslie Ward (1915) writes in his autobiography that she died one month shy of her 100th birthday, which would make July of 1837 the date of her death. However, she almost certainly is the Rachel Ward who was buried on Oct. 30, 1835 at the age of 98 years in Cheshunt, Hertfordfordshire, which is the village where her son James had retired. If so, she was probably buried in the graveyard of the Cheshunt parish church of St. Mary the Virgin. The younger James in 1827, the same year that he married his second wife Charlotte Fritch, executed a painting of Rachel titled 'The Family Compact' that shows Rachel sitting with her new daughter-in-law. There is also a portrait of Rachel (shown here) by James that in 1830 was exhibited at the Royal Academy of Art.

James and Rachel Ward appear to have had at least the six children listed below. Biographer Julia Frankau (1904), whose work Grundy (1909) implies is filled with errors, says there were eight children, but she identifies only five by name. Grundy says there were only five children total, but he makes no mention of Sarah Ward for whom both a baptism and marriage record exist, yet he does mention Charlotte Ward, for whom we have found neither record. Assuming that Grundy's Charlotte Ward did exist, that leaves us with six children.
Ward's opinion of Henry Chalon is revealed in a letter that he wrote to Lord Chesterfield, when the latter solicited Ward's advice regarding Chalon. This letter reads, "He, Chalon, got acquainted with an artful woman, who kept a school. At length a child appeared, then she left the school, and, it is said, broke her father and mother's hearts. Since that period he has passed the woman off as Mrs. Chalon." (Frankau, 1904, p. 42)
Richard Frederick Reynolds (1888-1918) was born on Dec. 5, 1888 in Headingly, Leeds, Yorkshire. He trained as a painter under Stanhope Forbes, R.A., but his art career was cut short when he enlisted during WWI in the British Army. He served as a lieutenant and later a Captain in the 6th Reserve Regiment of the Household Calvary and Cavalry of the Line, and he apparently was also associated with the Yeomonary and Imperial Camel Corp. He was killed in action on Oct. 2, 1918 in Flanders, Belgium, less than two months before the end of the war. He is buried with other war dead at Perth Cemetery (China Wall) in Ypres, Belgium. .

Dora Eldrid Reynolds (1889-1958), who was called Eldrid, was born in 1889 in Headingly, Leeds, Yorkshire. Like her mother, she painted, and she also wrote two novels - Red Rocks (1911) and Whispering Dust (1913). She was interned with her mother in 1940 in Italy during WWII, and it was not until April 1945 that they returned to Britain. Eldrid never married and died on Sept. 28, 1958 on the Isle of Wight, only a year after her mother's passing. .

Kenneth Richard Reynolds (1892-1960) was born on July 9, 1892 in Headingley, Leeds, Yorkshire, and grew up in West Yorkshire. He enlisted during WWI as a 2nd Lieutenant in the 9th Bedfordshire Regiment of the British Army, and spent time in France. An interesting coincidence is that at some point he was the commanding officer of Jack Bunce, a young man who moved after the war to the United States and married Kenneth's cousin Sidney Percy. Kenneth came home from the war, and married Sissie Jeanette Gray (1894-1987) in 1922 in Sheffield, Yorkshire West Riding. He and Sissie lived at first in Yorkshire, but moved in 1936 to a house called Lone Beech in Baslow near Bakewell, Derbyshire, which is next to the Peak District of northern England. They were living here in 1939 when Kenneth gave his occupation as a "Retired News Agent Stationer (Shop Keeper). His Aunt Maude Percy was the mother of his cousin Sidney Bunce, and when Maude passed away in 1948, he made many of the funeral arrangements for her. He lived at Lone Beech when he died on Jan. 19, 1960 at the Royal Hospital in Chesterfield, Derbyshire. He is buried in Baslow at St. Anne's Church. His wife Sissie, who was born on May 20, 1894 in Sheffield, Yorkshire West Riding, died on June 4, 1987 in Bakewell, Derbyshire, having lived at the Lone Beech house for over 50 years. .

Elnora Jeanette (Jan) Reynolds (1925-2012), the daughter of Richard Frederick Reynolds and Sissie Gray, was born May 21, 1925 in Letchworth, Hertfordshire. She is the author of the Williams Family of Painters, which is the source of much of the information in this family history. She worked in various London art galleries, and became a respected art historian, writing three books on Victorian landscape artists - the aforementioned book on the Williams famly, a biography on William Callow, and a biography of Birket Foster. She lived off and on over a period of 76 years at her parents home of Lone Beech in Baswell near Bakewell, Derbyshire, and though she never married nor had children, she always shared her house with one or more of her beloved cats. She died of pneumonia on Oct. 1, 2012 at a hospital near her home in Derbyshire. Her ashes reside in the Chesterfield Crematorium. .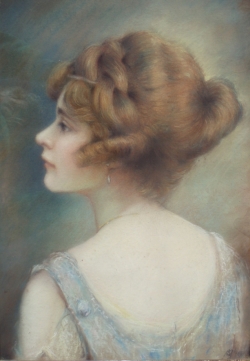 ---

APPENDIX

Williams Family Burial Records from the Barnes St. Mary Parish Church (Burial in the Old Barnes Cemetery)
| | | | | | |
| --- | --- | --- | --- | --- | --- |
| NAME | BIRTH | DEATH DATE | BURIAL DATE | PARISH | NOTES |
| Boddington, Elizabeth | abt 1785 | Sept. 15, 1872 | Sept. 23, 1872 | Barnes, St Mary | Mother-in-law of Henry J Williams |
| Hughes, Arthur Gilbert Horace | abt 1881 | | Feb. 27, 1901 | Barnes, St Mary | son of Kate Hughes |
| Hughes, Kate Elizabeth Ellen | abt 1843 | April 15, 1916 | April 19, 1916 | Barnes, St Mary | dau of Arthur Gilbert |
| Leslie, Emilie Ann | abt 1816 | Dec. 16, 1857 | Dec. 23, 1857 | Barnes, St Mary | dau of Edw Williams |
| Thompson, Evangeline Constance | abt 1862 | | Feb. 2, 1884 | Barnes, St Mary | granddaughter of Henry J Williams |
| Williams, Albert | abt 1854 | March 16, 1855 | March 22, 1855 | Barnes, St Mary | son of George A Williams |
| Williams, Ann | abt 1780 | | Sept. 24, 1851 | Barnes, St Mary | wife of Edw Williams |
| Williams, Caroline Fanny | abt 1837 | Dec. 30, 1921 | January 5, 1922 | Barnes, St Mary | dau of George A Williams |
| Williams, Edward | abt 1782 | June 24, 1855 | July 2, 1855 | Barnes, St Mary | Patriarch of the family |
| Williams, George Augustus | abt 1814 | May 26, 1901 | June 1, 1901 | Barnes, St Mary | son of Edw Williams |
| Williams, Henry John | abt 1812 | April 11, 1865 | April 18, 1865 | Barnes, St Mary | son of Edw Williams |
| Williams, Jane Newman | abt 1829 | Feb. 3, 1855 | Feb. 10, 1855 | Barnes, St Mary | wife of George A Williams |
| Williams, Mary Ann | abt 1806 | March 7, 1857 | March 13, 1857 | Barnes, St Mary | wife of Edw Charles Williams |
From Surrey, England, Burials, 1813-1987 on Ancestry.com

---
REFERENCES:
The documentation for many of the dates and places listed in this history are found in the Ancestry.com online databases (subscription required).

Avictorian.com, Sidney Richard Percy. Not a legitimate reference, as the Avictorian.com online biography is pretty much a rip off that simply copies word for word an earlier version of this site, and splices in some material, almost word for word again, from the Wikipedia articles (which came from this site in the first place). Not much originality.

Bunce, Sidney Dolores (1948-1961), Biographies of Sidney Dolores Bunce: Family papers (handwritten-date unknown), magazine (1948) article, and newspaper (1961) article.

Grave and burial locations where known are listed with tombstone photos (when available) on

Frankau, Julia (1904), William Ward A.R.A. - James Ward R.A. - Their lives and Works, MacMillan and Co., New York, 72 p. (333 p. with plates).

Fraser, William John (2012), Family Group Sheet for Henry John Boddington: Ancestry.com. Retrieved 5 April 2014.

Fussel, George E. (1974), James Ward, R.A., Animal Painter 1769-1859 and his England, Michael Joseph, London, 179 p.

Grundy, Reginald (1909), James Ward, R.A.: His Life and Works, Otto Ltd., London, 75. p.

Hughes, Edan Milton (2002), "Sidney Dolores Percy Bunce" in Artists in California 1786-1940, Crocker Art Museum, Sacramento, California, v. 1, p. 168. Hughes gives Sidney's birth date as 1897, which is the date she put on public documents after her arrival in the States. However, she was actually born in 1892, and like some of the other women in her family, she revised her age downward as she got older.

Knowles, Michael, More about Alfred Walter Williams (1824-1905), Information supplied by Mr. Michael Knowles, an online article available at People of 1887 - The History of Redhill and Reigate Surrey. Retrieved 5 April 2014.

Nisbett, Patrick T. (2007-present), Family Group Sheet for Edward Williams (current): Ancestry.com. Retrieved 5 April 2014.

Nisbett, Patrick T. (2008), Family Group Sheet for Edward Williams (ver. 2): FamilyTreeMaker Online. Retrieved 5 April 2014.

Reh's Galleries, Sidney Richard Percy. A nice online biography by Janet Whitmore that is based entirely on Reynolds (1975), with the addition of the photograph on Sidney Richard Percy that is shown on Wikipedia (This photo originally came from the family collection, and it also appears in the Dictionary of National Biography). Credit to the author that she references Jan Reynold's book. Thus, even though no new information is added, it remains a nice summary of Jan's work.

Reynolds, Jan (1975), The Williams Family of Painters, Antique Collectors Club, 331 p.

Reynolds, Jan (1997), Landscapes with Cattle, Antique Dealer and Collectors Guide, v. 51, n. 4 (Nov.), p. 42-45.

Reynolds, Jan (2004), Sidney Richard Percy, Oxford Dictionary of National Biography - online edition, Oxford University Press, Retrieved 15 April 2013.

Ward, Leslie (1915), Forty Years of Spy, Chatto & Windus, London. This is an autobiography by the great-grandson of James Ward, and it begins with a few words about the author's family history.

UK Census Records, 1841-1901 and Parish Baptism, Marriage and Burial Records: online databases available on Ancestry.com, Familysearch.org and Find My Past.