Genealogy of the Thompson Family


(version 5/8/15)
Please email corrections to Mike Clark



Nathaniel Thompson (c.1737-1817/1820) was probably born in the late 1730s in the Stepney district (Tower Hamlets borough) of London. He might be the same Nathaniel Thompson, son of Nathaniel and Rebecca, who was baptized Aug. 26, 1739 at St. Botolph Church in Bishopsgate, which in those days included parts of Stepney. We know from the baptism records of his children that the Nathaniel Thompson we are seeking was a weaver. Interestingly, the record books of the Weavers Guild in London have an entry for a much older Nathaniel Thompson who on May 16, 1709 was bound as a weaver's apprentice. If father and son shared the same name, which is but a guess, then this 1709 apprentice might be the father of our Nathaniel. To speculate further, there is a Nathaniel Thompson of Wentworth Street who on Nov. 11, 1763 was buried at the age of 68 at Christ Church Spitalfields, Stepney. If this is the father of our Nathaniel, then 1695 is an approximate birthdate for the father.

The wife of our Nathaniel was named Ann, which makes it likely that he is the Nathaniel Thompson who married Ann Sandcroft (Sadgrove) on Sept. 28, 1760 at Christ Church Spitalfields. Neither the bride nor groom could write, as both signed their names with an X. Because there are no other Sandcrofts listed in the parish register, whereas there are entries for Sadgrove, Thompson (1964) speculates that the minister wrote down the brides name as he heard it, but that he should have spelled it Ann Sadgrove instead of Ann Sandcroft.

It is possible that our Nathaniel is the same Nathaniel Thompson of Bethnal Green (Tower Hamlets borough) who was buried Jan 23, 1820 at the age of 83 at St. Dunstan and All Saints Church, Stepney, which would make 1737 his approximate birth date. It is said that at one time the family of his descendant Edmund Symes-Thompson had a sketch of him with a statement penciled in on back of the sketch indicating that he died about 1817. Also, there is an 1847 pedigree of Frederick Elijah Thompson (1797-1849) on file with the College of Heralds in London that shows Elijah's grandfather to be a Nathaniel Thompson who was born about 1737, and died in 1817 in Islington, London, which would seem to indicate that he is not same man as the Nathaniel Thompson buried at St. Dunstan and All Saints Church. Thus, all we know for sure about our Nathaniel Thompson is that he was a weaver with a wife named Ann. Everything else - when and where he was born, when and where he died, and who his parents might have been - is uncertain.
Nathaniel Thompson (1761-1825), the son of Nathaniel and Ann Thompson, was born Dec. 7, 1761 at Deacons Court, Quaker St., and baptized 20 days later on Dec. 27 at Christ Church in the Spitalfields parish (Tower Hamlets borough). He married Margaret Maw (c.1765-1811) in London on Sept. 2, 1784 at St. Dunstan Church in the nearby Stepney district (also Tower Hamlets borough). He appears to have originally been a pattern maker, but he became a member of the London stock exchange about 1799, and Nathaniel can be found from 1799-1825 on lists of members of the exchange. He took in his 14-year old son Thomas first as his apprentice, and Thomas later became Nathaniel's partner.

Nathaniel and Thomas apparently were quite successful in the stock exchange, bringing in several hundred pounds a year by the turn of the century, and they remained business partners until about 1810, when Nathaniel may have decided to retire. Margaret died at the age of 46 in early 1811 at St. Mary's Islington after a protracted illness and was buried on March 28 at St. Mary Le Bowe Church in the City of London, her last-born child Theophilus being only three-years old. Nathaniel then married Susan Clarke of Windsor in 1813 at Kensington, Middlesex, and had three more daughters with her.

Nathaniel died in Nov. of 1825 at the age of 64 at St. Mary's Islington, and was buried near his first wife on Nov. 15 at St. Mary-le-Bow Church, which is on Cheapside Street, and just east of St. Paul's Cathedral, in the City of London. The site of the old cemetery, little of which is in evidence today, is on the west side of the church, but many graves and tombstones were also placed in the church crypt, which today houses a café. It is not known in which of these the Thompsons lie. Nathaniel's death date is also listed in the Thompson Family Bible. He also left a will, written in 1821 and proven on Nov. 26, 1825, that is in the Bank of England Wills Extracts 1717-1845 collection of the Society of Genealogists. This will, which identifies him as "a Stock Broker of Saint Mary Islington , Middlesex", is also available from the British National Archives.

Nathaniel had the seventeen children who are listed below, with fourteen children by his first wife and three children by his second wife.

Theophilus Thompson (1807-1860), the son of Nathaniel Thompson and Margaret Maw, was born Sept. 27, 1807 in the Islington of London, and baptized at St. Mary Church in the same borough. He married Elizabeth Anna Maria Wathen on Jan. 25, 1831 at St. Pancras Church in Camden, London, in a marriage that was most likely arranged by her father Nathaniel Wathen, and by Theophilus' older brother Thomas, both of whom were prominent members of the British Foreign Bible Society. Thomas and Nathaniel were probably also business associates, as Thomas was a Merchant Taylor involved in trading textiles on the stock exchange, and Nathaniel was a clothier who made the textiles.

Theophilus became one of the best-known physicians in London, and he is said to have introduced the stethoscope to Britain in 1828. He died at the age of 53 on August 11, 1860 in Sutton, Surrey, and was buried six days later in the West Norwood Cemetery in Lambeth, London, which is where his wife and father-in-law are also buried. Elizabeth died on Nov. 14, 1867, a few days after her 60th birthday. According to Thompson (1964) there is a life of Theophilus in the British Museum. The photograph of him that is shown here hangs in the British National Portrait Gallery. There is a Wikipedia Article on Theophilus Thompson.

children - THOMPSON

Theophilus Wathen Thompson (1832-1905) who follows:

Elizabeth Gertrude Thompson (1833-1904), was born Dec. 26, 1833 in London, and baptized there April 30, 1834 at St. George Church in the Bloomsbury parish of Camden. She married John Kempthorne on Jan. 4, 1860, and died in 1904.

Arthur Steinkopff Thompson (1835-1919), was born Dec. 27, 1835 in London, and baptized there Feb. 29, 1836 at the St. George Church in the Bloomsbury parish of Camden. He attended Warden College at Oxford where he obtained several degrees, his final being a doctorate in 1869. He entered the clergy, and served as chaplain at St. Petersburg from 1864 to 1877, and also became vicar of Arundell, Baulking in Berksire, and Little Marlow. He married Ellen Jameson (c.1844-1878) on June 15, 1875 at All Saints Church at Clapham Park in London. Ellen died in 1878 and was buried on Aug. 12, 1878 in West Norwood Cemetery in Lamberth, London in the same plot as her father-in-law Theophilus Thompson. Arthur died April 27, 1919 at the White Cottage in Shanklin on the Isle of Wight.

Edmund Symes-Thompson (1837-1906), was born Nov. 16, 1837 in London, and baptized March 25, 1838 at All Saints Church in the Edmonton Parish. Although his father arranged for him on Feb. 5, 1852 to serve as a grocers apprentice to Charles Hillhouse, Edmund decided to follow his father's calling and studied medicine instead. He became a very well-known London physician and academic, lecturing widely and publishing on a variety of medical topics. He married Elizabeth (Lilla) Watkins (1849-1920) on July 25, 1872 at the Potters Bar St. John the Baptist Church in the South Mimms borough. Although their main home was at Cavendish Square in London, they bought Finmere Manor in Oxfordshire in 1898 for a country residence, and Finmere remained in the family until it was sold in the 1960s. Edmund died on Nov. 24, 1906 at his Cavendish Square house, and his wife subsequently published a biography on him in 1908 titled 'Memories of Edmund Symes-Thompson'. Both Edmund and Elizabeth are buried in the St. Michael and all Angels Churchyard in Finmere. Edmund and Elizabeth had five children, including Henry Edmund Symes-Thompson (1873-1952), who like his father became a doctor. Another son, Cholmeley Symes-Thompson (1881-1914) was killed in action at the Battle of Ypres in World War I and is buried in Belgium in the Zillebeke Churchyard.

Constance Mary Thompson (1841-1924), was born Oct. 29, 1841 in London, and baptized there Jan. 5, 1842 at the St. George Church in the Bloomsbury parish of Camden. She married the Rev. Robert Cholmeley (1818-1880) on Jan. 9, 1866 in St. Marylebone, London, and moved with him to the village of Findon in Thakeham, near the coast in West Sussex, where since 1859 he had been vicar of the St. John the Baptist Church. They lived at the Rectory on High Street, which is now the Findon Manor Hotel. They probably did not have any children. Robert died on Aug. 30, 1880 at Findon, afterwhich Constance returned to London where she died in 1924 in the St. Pancras parish.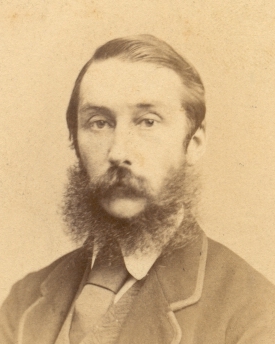 Theophilus Wathen Thompson (1832-1905), the son of Theophilus Thompson and Elizabeth Anna Maria Wathen, was born May 22, 1832 in London and baptized Aug. 9, 1831 at St. George's Church in the Bloomsbury parish of Camden, London. He was admitted Nov. 15, 1841 at the age of 9 to St. Pauls, a preparatory school in Prior Park, Bath that his Uncle Thomas Thompson was associated with. The biography of his brother Edmund Symes-Thompson portrays Theophilus as being athletic, and there is an inscribed trophy still owned by the family that commemorates a bicycle race he won. He is also said to have been very good in rowing competition. After his graduation from St. Pauls in 1848, he went on to King's College in London, where he probably studied law, as he ultimately became a law clerk, then a solicitor, which is a type of British lawyer.

Theophilus married Maria Elizabeth Abbott on Oct. 21 1857 in Bath, Avon, Somerset, and they lived for a time at 118 Cambridge Street in the Pimlico district of London with her parents William and Sophia Louisa Abbott. In fact, Theophilus and Maria in 1861 had two children born at the Cambridge Street address, and when Theophilus filed his application to take out an Attorney's Certificate in Chancery, he gave the same address. Later, Theophilus and Maria moved to the other side of the Thames River and lived for several years in Surrey. Eventually, they ended up at Bedford Park in the Chiswick borough of London, and during this time Theophilus was friends with the Irish poet William Butler Yeats (1865-1939). He must have been quite successful in his law practice, as he retired in 1876 at the age of 44, after which we find him living in Acton in west London. He died May 24, 1905 in the Brentford borough of London. Despite having had a career as a lawyer and probably preparing wills for others, he left no will himself, and his estate was settled in probate. Maria Eliza outlived him by 12 years and died on June 28, 1917 in South Hammersmith, London. Maria's attending physician when she died was her nephew Henry Edward Symes-Thompson (1873-1952).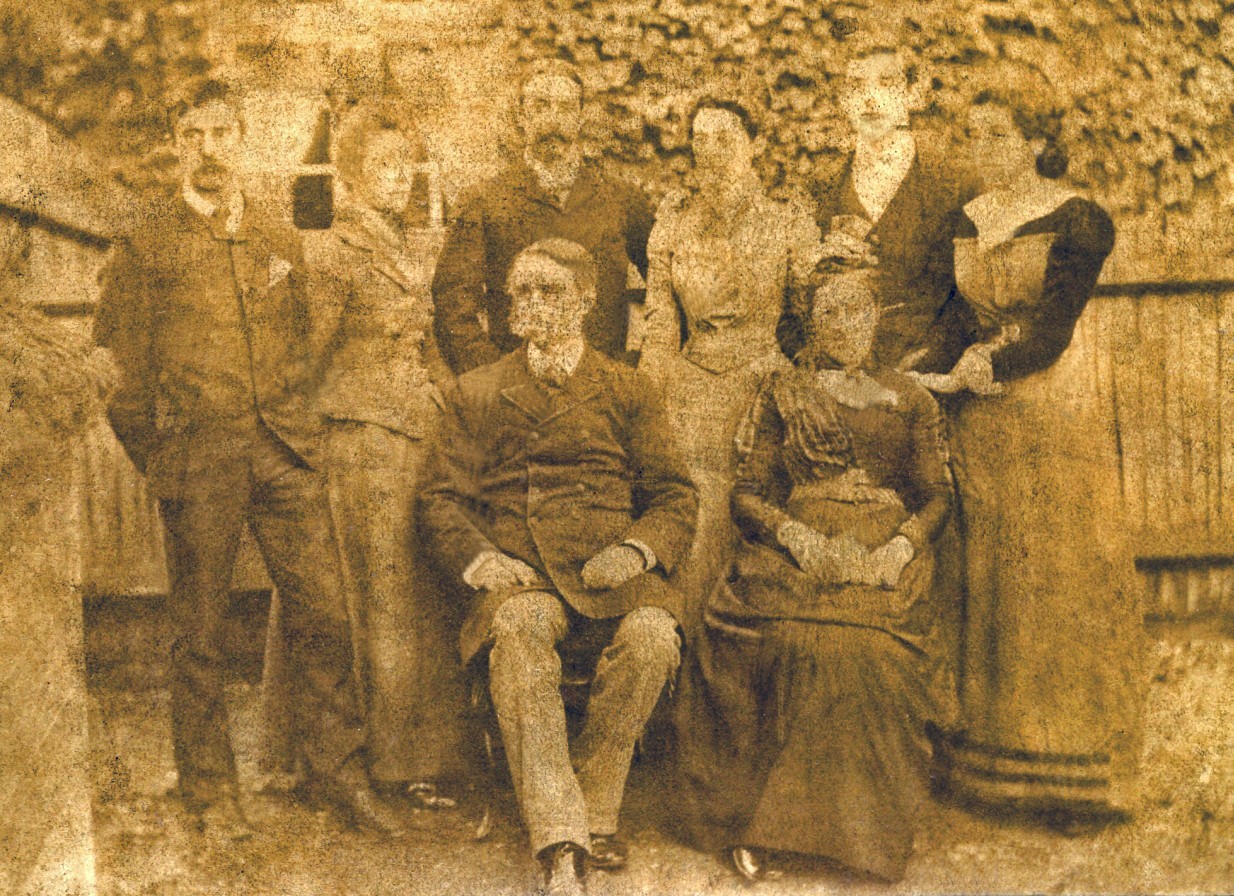 The family of Theophilus Wathen Thompson and Maria Eliza Abbott taken about 1890. The parents are seated, and their children are standing from left to right (oldest to youngest): Claud, Ethel, Alan, Maud, Arthur and Constance.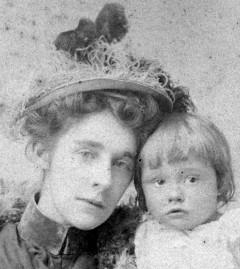 Maud Anna Maria Thompson (1866-1948), the daughter of Theophilus Wathen Thompson and Maria Elizabeth Abbott, was born as Maria Thompson on Sept. 11, 1866 in Wandsworth Common, Battersea, Surrey (London) and baptized Maud Anna Maria Thompson on Nov. 14, 1866 in the Holy Trinity Church in the Upper Tooting Parish of Wandsworth. She came from a well-to-do family, and married the painter Herbert Sidney Percy on Oct. 22, 1891 at the St. Michael and All Angels Church in the Bedford Park parish of Chiswick, London. Her great uncle the Vicar Arthur Steinkopff Thompson officiated at the wedding and her father, and her uncle Arthur Wathen Thompson were witnesses. Maud and Herbert lived in a large house at 29 Sycamore Gardens (formerly Avenue) in Hammersmith, London, and Herbert was successful enough in his career that they had servants. Herbert died in 1932, but he left Maud secure financially with investments that he had made.

When the Germans bombed London during the 1940 and 1941 Blitz of World War II, Maud was living in the Sycamore Gardens house alone with her servants, and bombs are said to have landed near the house. Maud's daughter Sidney remembers that when she visited her mother after the war in 1946, the house was full of soot from the bombings, her mother was senile, and the servants had stolen many of the things in the house of value. Sidney's original intent had been to bring her mother back to the United States, but she decided that Maud was too frail to travel, so she put her in a Derbyshire nursing home and returned to the States alone. Maud's sister-in-law Amy Reynolds, and her nephew Kenneth Reynolds, looked in on Maud from time to time in these final years.

Maud died at the Gate House in Wirksworth (Belper Registration District), Derbyshire on Nov. 14, 1948. The Gate House is a historic three-story Georgian building that presumably was being used as a nursing home. Maud was buried on Nov. 19, 1948 next to her husband Herbert in the Hammersmith Borough Cemetery (Mortlake) in London. Please see the Percy Genealogy for the children of Maude and Herbert.

---
REFERENCES: