Genealogy of the Wathen Family


(version February 20, 2019)
Please email corrections to Mike Clark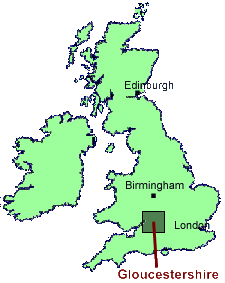 The Wathen Family comes from the Frome River (Stroudwater) Valley in the Cotswolds---a range of low hills in Gloucestershire County that some call the "Heart of England". These hills became famous in the Middle Ages for a high-quality wool from the Cotswold Lion, a local breed of sheep, and Cotswold shepherds made England the largest exporter of raw wool in all of medieval Europe. However, as water-driven mills in the Frome Valley were slowly converted from grinding wheat to running spinning wheels and weaving looms, all of the wool was used locally to make cloth, as more money was to be made exporting the cloth than from selling the wool itself. As a consequence, Stroud became the center of the British cloth industry, Cotswold wool being all but forgotten, and the local broadcloth brought huge fortunes to the mill owners, allowing them to build stately houses and marry into the nobility.
The parishes of Kings Stanley, Stroud and Painswick all had waterwheel-powered mills that supplied the Gloucestershire woolens trade, which during the 1603-1625 reign of King James I came to rival that of Flanders. Although Painswick was the largest town of the three, having had a thriving outdoor market since the 13th century, Stroud was more conveniently located for the water mills, having a better availability of fullers earth with which to shrinken, thicken and dye the cloth. As such, Stroud at an early date became the center of the of the English clothing industry, and the Wathen family became wealthy by running woolen mills on the outskirts of town that employed legions of workers.
Branch I
The early origins of the Wathen family in Gloucestershire are a bit of a mystery. First of all there is a Jonathan Wathen of Kings Stanley (d. 1630), who is listed in Burke's Landed Gentry as the patriarch of the Wathen family of Bolwick Hall (formerly Beckenham Lodge). However, Burkes may actually combine and confuse him with the Jonathan Wathen (d. c.1667) who follows, possibly his son. It is also possible that Burkes has incorrectly identified him, and that the true patriarch of the family, and the father of the aforementioned Jonathan Wathen (d. c.1667), is Phillipp Wathen of Rodborough (d. c.1632), who is discussed below. At this point either scenario is possible.

The Jonathan Wathen above is shown in some genealogies as being born about 1570 in Kings Stanley, Gloucestershire, but they provide no evidence. Burkes lists his wife as a woman named Sarah (d. 1637), and gives 1630 as his death date. However, beyond what is shown in Burkes, which is probably based on records in the College of Heralds, nothing else is known. Although his trade is not known, it is likely that he played some sort of role in the Gloucestershire cloth trade, as it rose to prominence during his lifetime.

Phillipp Wathen of Rodborough (d. c.1632) is the other possibility for the father of the Jonathan Wathen (d. c.1667) who follows. Phillipp left a will that was written Aug. 28, 1631 and proven June 11, 1632, which indicates that he had died in the interim. This will identifies Phillipp as a clothier, who owned a manor house and associated property (messuage) known as the Achards (Archers), which he bequeaths to his son Edward. An early 18th-century British-listed house still stands on this site, which is located near Bath Road (A46) on the west side of the Rodborough Commons. Phillipp Wathen's will also mentions a wife named Alice, along with the five children and the grandson (and namesake), who is listed below. It is possible that the elder Phillipp is to be identified with the Phillip Wathen who married Alice Browninge on April 5, 1594 in Woodchester, Gloucestershire. Although, this is by no means certain, it is consistent with the relationships given in the will of the Jonathan who follows. (Also, see the Will of Phillipp Wathen of Rodborough, Gloucestershire)

children of Phillipp Wathen of Rodborough and wife Alice - WATHEN
Jonathan Wathen (d.1667) is the earliest ancester of whom we are certain, as he is the only one for whom there is a written record that definitively links him to the family. However, there is much uncertainty surrounding the identity of his father. He may be the son of the Jonathan Wathen (d. 1630) of Kings Stanley shown above, in which case it is likely that Burke's Landed Gentry, which does not list him, combines him with the person of his father. It seems more likely that he is the son of Phillipp Wathen of Rodbourough, who left a 1632 will that names his sons Phillipp, Edward and Jonathan. However, this relationship would contradict what his shown is Burkes Landed Gentry. Some online genealogies show this Jonathan Wathen's birth date as c.1599, but this is probably pure speculation, as we know of no birth or baptism records for him. He is known both from a will in the Gloucester County archives, and from the baptism records of some of his children. His will, which is dated Aug. 20, 1667, most likely was drafted when he was on his death bed, but this is not known for certain. This will further identifies him as a clothier, and lists four surviving children, but makes no mention of his wife, which indicates that she probably predeceased him.

(Also, see the Will of Jonathan Wathen of Kings Stanley, Gloucestershire)
children - WATHEN
Thomas Wathen of Kings Stanley (1627-1685), first of the name and the son of Jonathan Wathen, was born June 6, 1627 in Kings Stanley, Gloucestershire, and baptized there on June 29, 1627 in the parish church. Although Phillimore's (1896) transcriptions of the Kings Stanley parish register (v. 1, p. 8-9) shows a break with no marriages from March of 1642 until September of 1655, Thomas is said to have married Elizabeth (Mary) Jones there on Oct. 31, 1650. However, as this was a time of English Civil War during the rule of Oliver Cromwell, the lack of documentation in the register may simply represent a lapse in record keeping during the conflict. Elizabeth is also said to have been the daughter of one Robert Jones, but this as well needs to be confirmed. Thomas is mentioned as an heir in the 1667 will of his father. Burke's Landed Gentry gives 1685 as the year of his death, which makes it likely that he is the Thomas Wathen who was buried on June 7, 1785 at the Kings Stanley Parish Church.

children - WATHEN
Jonathan Wathen of Minchinhampton (1657-1708), the son of Thomas Wathen of Kings Stanley, was born Sept. 6, 1657, as recorded in Burkes Landed Gentry. However, there is a transcription of the Kings Stanley church register that gives a birthdate (or baptism) of July 9, 1657 at Kings Stanley, and yet another that lists a Jonathan Wathen, son of Thomas Wathen, who was baptized on July 9, 1664 in Kings Stanley. Presumably these are the same person, but it is difficult to know for sure. Portions of the Kings Stanley parish register for the years 1657 to 1664 are quite difficult to read, and it appears that events happening in 1657 and 1664 sometimes appear on the same page, which may explain the confusion. Presumably, the Burkes Landed Gentry date is based on family records submitted to the College of Heralds by Jonathan's grandson Joseph Wathen (1726-1786), when the latter applied to the College for a Coat of Arms. The Jonathan Wathen we are interested in married Sarah Barnfield (d. 1768) on July 17, 1681 in the Woodchester, Gloucestershire parish church.

When Jonathan died, he apparently left no will, and his estate was settled to the benefit of his widow Sarah on May 23, 1709 in Kings Stanley. One of the probate documents is identified as an "inventory of the Goods and Chasso___? of Jonathan Wathen Sr clothworker lately living in the parish of Minchin Hampton in the County & Diocese of Gloucester and prized the 23rd day of August Anno Domini (in the year of our Lord) 1708"... This document cetainly implies that Jonathan died before the date of the inventory, which makes it likely that he is the Jonathan Wathen who was buried on July 15, 1708 at Holy Trinity Church in Minchinhampton, Gloucestershire. Burkes Landed Gentry gives 1728 as the death date of Jonathan's wife Sarah, which almost certainly identifies her as the "Sarah Wathen widow" who was buried on Oct. 28, 1728 at the same Holy Trinity Church. Jonathan and Sarah had several children, but it is their sons Jonathan and Samuel of whom we need to make make special mention, as they are the sires of the two main branches of the Wathen family in the Frome Valley.

children - WATHEN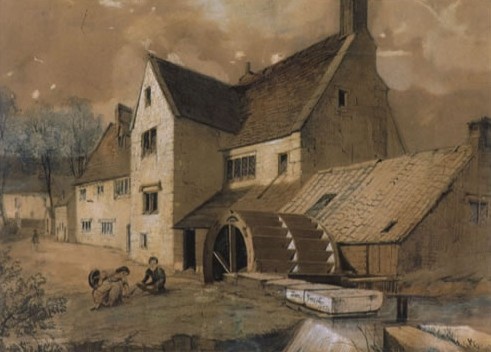 Jonathan Wathen (1684-1749) of Stroud, the son of Jonathan Wathen of Minchinhampton, was born in 1684, probably in Kings Stanley, Gloucestershire, as he was baptized there on Oct. 23, 1684 in the parish church. He married Sarah Watkins on Oct. 25, 1708 in Minchinhampton, Gloucestershire, his surname appearing as "Wothen" in Phillimore's (1905) transcription of the Minchinhampton marriage records (v. 11, p. 33). Jonathan at some point leased the old Sewell's Mill, on the Frome River at the village of Far Thrupp, from Jeremiah Davis. This mill, which probably dates from the late 14th century, was originally known as the Huckvale mill, but in the late 1600s it became known as the Sewell Mill, and in the 1700s it came to be known as the Thrupp mill.

Jonathan Wathan must have been a religious man, as he personally knew George Whitefield, who with John Wesley was one of the founders of the Methodist faith. Whitefield writes in a Friday, July 6, 1738 entry of his journal, "I lay at the house of Mr. Wa__n, a clothier two miles from Chafford". No doubt Chafford actually refers to Chalford, which was about two miles from Thrupp where Wathen lived. Several months later, Jonathan's son Samuel, while practising as a surgeon in Bristol, was an ardent follower of John Wesley, and he was a member with Whitefield's widowed sister Elizabeth Grevil (Greville) of a small group of early Bristol believers that Wesley refers to in an April 16, 1739 letter to James Hutton as "their little Society." Then just three days later on April 19, 1739 Whitefield records in his journal, "Invited again to Chafford [Chalford]."

When Jonathan Wathen died in 1749 in Gloucestershire, the lease for the Thrupp Mill passed to his son Joseph Wathen, and when Jeremiah Davis, the mill owner, died in 1752, ownership then passed to Jeremiah's son Dennis. Joseph Wathen continued as leaseholder, and he appears to have eventually owned the mill outright. As already noted Jonathan died in 1749, and the register of St. Laurence Church of Stroud records July 7, 1749 as the date he was buried. When Ralph Bigland sometime between 1750 and 1784 visited the graveyard, one of the memorials he found is the tomb of Jonathan Wathen, which appears in Bigland's list with the tomb of Jonathan's brother Samuel. Unfortunately Bigland did not record the death date nor memorial transcription. It is not known if this tomb still survives, as many monuments were not saved when the old chuch in 1869 was torn down and the new one built. Jonathan did leave a will, which was proven on Aug. 4, 1749 and is available from the British National Archives. Jonathan's widow Sarah survivied him by almost 20 years, being buried on Feb. 20, 1768 at St. Laurence Church in Stroud, probably in the same tomb as her husband.

children - WATHEN
Joseph Wathen (c.1723-1786), the son of Jonathan Wathen, was born about 1723, probably in Stroud, Gloucestershire, or in one of the surrounding villages. Even though the Wathen family were very religious, we have not been able to identify an entry for Joseph in the baptism register for the Stroud St. Laurence parish church. However, it is possible that his parents considered the 1715 baptism of Joseph's deceased older brother and namesake to have counted for the younger Joseph as well. Nonetheless, even though we do not have a christening record to link Jonathan and Joseph Wathen as father and son, Joseph is listed in Burke's Landed Gentry as the 6th son of Jonathan. Also, Jonathan in the 1740s or earlier leased the Thrupp mill on the Frome River, and when Jonathan died in 1749, Joseph took over the lease to the mill. Furthermore, the wills of some of Joseph's brothers, for whom we do have baptism records, mention Joseph's children as nieces and nephews, leaving no doubt that Jonathan and Joseph indeed are father and son.

Joseph married his first wife Elizabeth Ellis on May 10, 1756 in Stroud. Elizabeth came from a family of Gloucestershire clothiers, two other members of which married into Joseph's immediate family - his sister Mary marrying Christopher Ellis, and another sister Christian marrying Joseph Ellis. Joseph and Elizabeth do not appear to have had any children, as she died after a short marriage and was buried on Oct. 14, 1758 in the St. Mary Magdalene churchyard in Rodborough, Gloucestershire. He then married his second wife Anne Iles (1739-1803) on April 17, 1760 in Winterbourne, Gloucestershire, which is located just outside of Bristol. Ann is almost certainly a niece of John Iles, who owned the Iles mill in Chalford, a few miles upstream on the Frome River from the Thrupp mill that Joseph Wathen owned. Her likely father is John's brother Joseph Iles (c.1704-1749), a wealthy merchant of Bristol whose firm of Joseph Iles & Co. sold slaves in South Carolina.

Joseph Wathen became one of the most successful clothiers in Gloucestershire, and his success allowed him to either purchase or build a mansion known as New House, which was located a short distance from his mill at Far Trupp on the south side of the village of Thrupp. The exterior of the house is remarkably similar to a house known as the Byne House built in 1755 by Joseph's brother-in-law John Wansey on Church Street in Warminster, Wiltshire. Joseph was living at New House by 1769, and when he died in 1786 he was clearly the owner, as his will specified that the house be left to his widow Ann. He also had acquired enough wealth by 1770 to buy out his lease for the Thrupp Mill from Dennis Davis. In addition, Joseph and three partners founded in 1779 Stroud's first financial institution, the Stroud Bank, which in 1838 became part of the Gloucestershire Banking Company. Joseph and his banking partners were also stockholders in the Stroudwater Canal project that opened a navigable waterway in 1779 from Stroud town to the Severn River at Framilode. Joseph probably also supported construction of the Thames-Severn Canal, which extended the Stroudwater past the Thrupp Mill and continued on to the Thames River, but he did not live to see its 1789 opening.

Joseph's father Jonathan had entertained at his house Rev. George Whitefield, one of the founders of the Methodist faith, and Joseph at times hosted Whitefield's partner Rev. John Wesley, the other founder of the faith. The family, and especially Joseph's wife Ann, were in fact devout followers of John Wesley, and when Wesley's ministers came to Stroud to preach, it was not unusual for them to spend time with the Wathen family. One of these ministers was Alexander McNab (1745-1797), who while soliciting funds to repair a Methodist chapel in Edinburgh, wrote in his journal, "Fri. 18, [Sept. 1778] - Had a pleasant walk to the Thorp [Thrupp], where I dined at Mr. Warthin, a rich clothier, who entertained very gentelley for his Wife's Sake, who belongs to the Society, tho he hardly ever comes to hear the preaching. After preaching to a house full of people, I walked back to Stroud."

Joseph died at the age of 63 on May 28, 1786 in Stroud, and was buried on June 3, 1786 in a family vault in the All Saints Churchyard in Bisley, Gloucestershire, which is just a short distance from Stroud. There is also a cenotaph in the form of a marble tablet for him and his wife preserved in the old St. Laurence Church. This tablet was originally in the north aisle of the church before it was rebuilt in 1869 and many of the burial monuments removed. However, the monument to Joseph and his wife survives and hangs today high on the interior wall of the church bell tower. When Joseph died, his widow Ann inherited both the Thrupp Mill and New House. She then gave the mill to her son Samuel on his 1792 marriage to Elizabeth Sheppard. Ann died at the age of 64 on March 10, 1803, most likely at Stroud, and she is buried with her husband in the family vault at Bisley All Souls.

Although Joseph and Ann's oldest surviving son Samuel ultimately became the owner of New House, it is not known whether Ann gave it to him in 1792 for a wedding present, or whether in 1803 he inherited it on her death. In any event, he rebuilt the house around 1800, possibly in 1803 after Ann died, and renamed it Brimscombe Court. This house, which is located at latitude 51.7250 and longitude -2.1967, is a British listed Grade II building (English Heritage ID: 133167). The 2010 Brimscombe and Thrupp Parish Appraisal prepared by Brimscombe and Thrupp Parish states that "Brimscombe Court at Far Thrupp on Thrupp Lane (once called Newhouse)" is an example of a "lavish house that the 18th century mill owners (known as clothiers) . . . built for themselves".

Although Joseph and his first wife Elizabeth were childless, Joseph and second wife Ann had several children, who are listed below.
children - WATHEN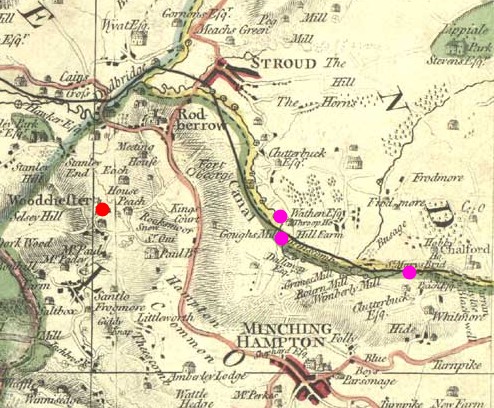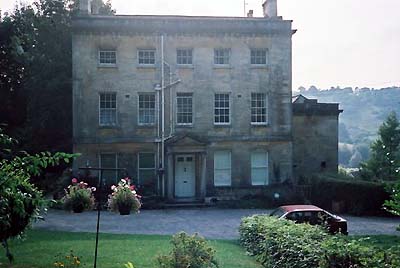 Shown on the left is an 1800 map of the Frome Valley by Isaac Taylor, where pink dots are added to show, from west to east, the locations of the Thrupp, Hope and Iles Mills on the Thames-Severn Canal (and on the Frome River). Note that Wathen, Esq. is shown as owner of the Thrupp Mill. The red dot at the town of Woodchester shows the location of the Woodchester Mill of Sir Samuel Wathen and Sir Paul Baghott. The Lypiatt Park manor, where Paul Baghott lived, is located in the NE corner of the map. The photo on the right shows Brimscombe Court, formerly New House, which originally was the home of Joseph and Ann Wathen, before their son Samuel rebuilt and renamed it. This large, three-story, slate-roofed home, made of limestone is a British-listed building that has now been converted to privately-owned apartments.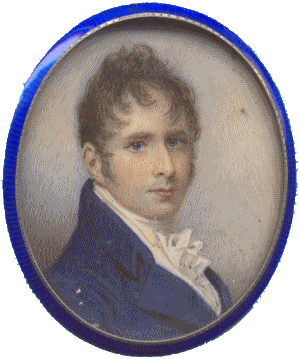 Nathaniel Wathen (1772-1856), the son of Joseph Wathen and Anne Iles, was born in Stroud, Gloucestershire on Sept. 22, 1772, and baptized there on Oct. 13, 1772 in the parish church. He was probably born at his father's house, New House at Far Thrupp, and he most likely lived out his childhood there. Rev. John Wesley mentions in a letter dated March 8, 1782 how on the Tuesday hence (March 19) he had promised to dine with the Wathens at New House. Most likely a young Nathaniel sat at that dinner table. Although New House still stands, it was rebuilt by Nathaniel's brother Samuel around 1800, and subsequently renamed to Brimscombe Court. The rebuilt house is shown above.

Nathaniel married Mary Beardmore, the daughter of a wealthy London hosier, on March 19, 1804 at St. Mary's Church in Islington, London. He became a clothier, like his father, and he and his older brother Samuel leased the Hope Mill, near the village of Brimscombe, from Catherine Gough. When she died, sometime around 1805, she left the mill to the Wathen brothers. Not long afterwards Nathaniel was working the mill alone, and about 1812 he built a new mill on the site. He became quite wealthy and was highly respected throughout England as a clothier. He sold the operation to Robert Bamford in 1829, and supposedly part of the old stone mill was still standing in 1973.

It would appear that Nathaniel profited nicely from his sale of the Hope Mill, as he appears to be more a gentleman of London from 1830 on, than a Stroud clothier. He became a member of the British Foreign Bible Society, and served on the governing committee of that organization from 1832 to 1848. Another committee member was Josiah Iles Wathen, either his brother or his son, who served from 1831 to 1848. A prominent member of the society was the well-known Thomas Thompson, a wealthy member of the London stock exchange whose younger brother Theophilus married Nathaniel's daughter Eliza Anna Maria Wathen.

Nathaniel's wife Mary died on Dec. 25, 1838 and was buried on Jan. 1, 1839 with various members of her family at Wesley's City Road Chapel in London, but Nathaniel survived her by many years and died at the age of 83 on April 15, 1856 in Camden Town, London, having lived a long life. Because interments at Wesley's Chapel, with the notable exception of one well-known Methodist minister, ended in 1853, Nathaniel was buried on April 23, 1856 in Norwood Cemetery on Lambeth Road in Lambeth, Surrey, where his daughter Eliza Anna Maria Thompson, and her husband Theophilus are buried in the adjacent plot (Square #35). However, Nathaniel does not share their tomb, and his resting place is marked by a solitary tombstone at the base of a tree (Square #34). Nathaniel left a will, which was proven on May 21, 1856 and is available from the British National Archives. Nathaniel is often confused with his distant cousin Nathaniel Peach Wathen, who was born the same year, in the same part of the Frome Valley in Gloucestershire, and also married a woman named Mary.

The miniature on the upper right, which is painted on ivory, is unsigned, but it is thought to have been painted by Isaac Wane Slater, who is known to have been a close friend of the family. It is also possible that it may have been painted by one of Isaac's brothers, who were all competent miniaturists.
children - WATHEN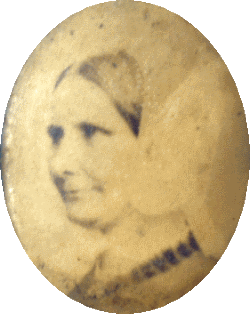 Elizabeth Anna Maria Wathen (1807-1867), the daughter of Nathaniel Wathen and Mary Beardmore, was born Nov. 4, 1807 in either Stroud, Gloucestershire or London, and baptized on Jan. 3, 1808 in the Stroud parish church with her sister Frances. Her early years were spent at Stroud and the nearby village of Brimscombe where her father ran woolen mills to make cotton clothing, but when she was a little girl, her parents moved from this rural setting to central London, and there she grew up. When she was 23-years old, she married Theophilus Thompson (1807-1860), an eminent London physician, on Jan. 25, 1831 at St. Pancras Church in the Camden parish of the City of London. The marriage was probably arranged by her father and Theophilus' older brother Thomas Thompson. Given that both Nathaniel and Thomas were prominent members of the British Foreign Bible Society, and that both men were famed for their piety, as well as their philanthropy, they no doubt shared similar views, and were probably good friends.

There is no question that Elizabeth and her husband Theophilus both came from wealthy families, and as Theophilus was one of London's most respected doctors, they must have lived in great comfort. Elizabeth lived the rest of her life in London, and after raising a family of several children, she died on Nov. 14, 1867, a few days after her 60th birthday. The photo on the right, though not formally identified as Elizabeth Wathen Thompson, came from a small brass locket that also contained a very well-known photo from the National Portrait Gallery (London) of her husband Theophilus Thompson, and it is believed that this locket was carried by their son Theophilus Wathen Thompson, which makes it likely that the photo is indeed of Elizabeth. Please see the Thompson Genealogy for the children of Elizabeth and Theophilus.


---
Branch II - The Family of Sir Samuel Wathen of Woodchester
Samuel Wathen (c.1699-1730), the son of Jonathan Wathen, was born in Kings Stanley, Gloucestershire, and baptized there on May 28, 1699 in the parish church . He married Sarah Burns on April 7, 1724 in Minchinhampton, Gloucestershire, and had several children, including the son who follows. He died on Oct. 2, 1730 and was buried with five of his children in a tomb in the churchyard of the old St. Laurence Church in Stroud. However, it is not known if his tomb survives, as many monuments were not saved when the old church in 1869 was torn down and the new one built.

children - WATHEN
Samuel Wathen (1723-1786), the son of Samuel Wathen and Sarah Burns, was born in 1723, and married Elizabeth Paul on Sept. 3, 1745 in Gloucestershire. A family bible owned by descendants in Australia shows that Elizabeth died on March 14, 1749 at the age of 43 years, and she is buried in St. George's churchyard in Kings Stanley. Samuel died on Jan 28, 1786 in Whaddon, Gloucestershire, where his tombstone is to be found in St. Margaret's churchyard.

children - WATHEN
Sir Samuel Wathen (1748-1835), the son of Samuel Wathen and Elizabeth Paul, was born in March 15, 1748 in Woodchester, Gloucestershire, and baptized there on March 24, 1748 in the parish church. He married Margaret Peach (c.1742-1826) on Oct. 23, 1769 in Woodchester. Many years later, he became the High Sheriff of Gloucestershire, for which he was knighted on March 13, 1803 by George III. He also served for "many years was in the commission of the Peace for that county." His wife Lady Margaret died on Sept. 17, 1826 in Kings Stanley, and Sir Samuel survived her for several years. When Sir Samuel's son Sir Paul Baghott came upon finacial difficulties, he signed as a guarantor, but when his son defaulted on his payments, Sir Samuel was forced to flee to France to escape his creditors. There he died died on May 19, 1835 in Pas de Calais in the Nord arrondisement, but his remains were returned to England for burial. He was buried in the family vault at the Kings Stanley, and there is a memorial inscription to him and his wife inside the Church of St. George in the Kings Stanley parish. Descendants in Australia of this branch of the family have loose pages from an old family bible that provides much information on the children of Samuel and Margaret. Sir Samuel also left a will, which was proven on March 22, 1836 and is available from the British National Archives.

The fortunes of Sir Samuel Wathen and his sons came in large part from wool and cloth-making operations at the Woodchester Mill, which is located on the Nailsworth Stream less than two miles south of Stroud. Grigshot House (shown to the left), which is part of the mill complex, is where the mill owners generally lived. The house and mill were owned by Samuel Paul in the mid-1700s, and both passed with his death in 1768 to his cousin Obadiah Paul (c.1720-1792), and then with Obadiah's death in 1792, the property passed to Obadiah's nephew, the aforementioned Samuel Wathen. The lease was then either renegotiated by Samuel at its 1794 expiration, or the property purchased outright, possibly the latter, as various of Samuel's sons in later years were owners of both the mill and the house. Grigshot House survives today as Grigshot Apartments, which is a British Grade II Listed Building on Bath Road in Woodchester.

Another old house that is closely associated with the family is the Old Priory (shown to the right), which is immediately west of Grigshot house at the site of the Woodchester Roman Villa. The Old Priory also occupies the site of the original manor-house, and is near the site of the old Woodchester parish church. This house was sold in 1602 by the lord of the manor to Robert Tayloe of Stroud, a clothier, and his son Robert. It was then acquired in the 18th century by Samuel Paul (d. 1768). His cousins and joint devisees, John Paul of Tetbury, and Obadiah Paul, owned it in 1781 with an estate of 159 acres, and Obadiah's nephew Sir Samuel Wathen lived here in the early 19th century. The house appears to date from the early 17th century, but there were substantial internal alterations in the 18th century, and further alterations in the early and late 19th century (see British History online, p. 296-297). Despite being known as the Old Priory, this house is not to be confused with the "Woodchester Priory", a nearby catholic church that dates from 1853 and has nothing to do with the Paul or Wathen families.
children - WATHEN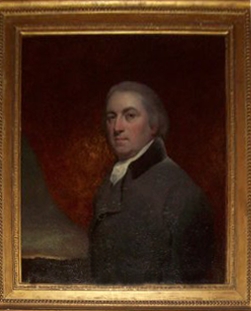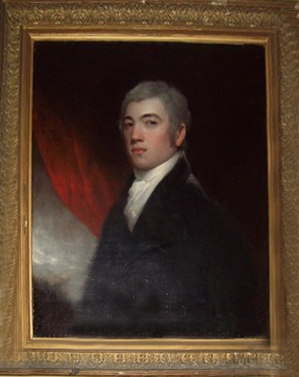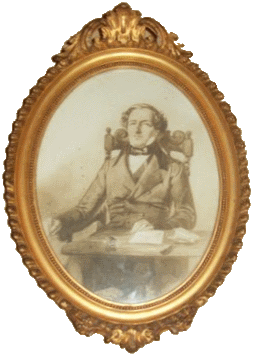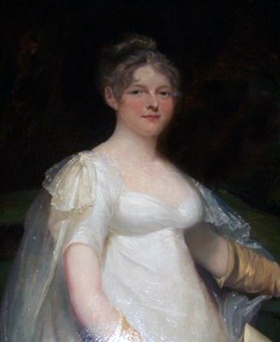 (From L to R) Sir Samuel Wathen, Sir Paul Baghott (Wathen), Obadiah Paul Wathen, and Margaret Peach Wathen.
These images were kindly supplied by Mary Calwell, who owns the actual paintings.

---
Branch III - The Family of Samuel Wathen, M.D.
Though the relationship of Samuel Wathen, M.D. (c.1720-1787) of Dorking, Surrey to the Wathen families of Stroud and Kings Stanley, Gloucestershire used to be tentative, there is now no question that Samuel and Joseph Wathen are brothers, the sons of Jonathan Wathen (1684-1749), a clothier of Far Thrupp (Stroud) in Gloucestershire. The definitive proof is a baptism certificate for Samuel, and his 1745 admission document to the Freedom of the Company of Surgeon's in London, both of which identify him as the son of Nathaniel Wathen of Stroud. Prior to obtaining these documents, the evidence was as follows.


Elizabeth Watkins, the wife of Edmund-Symes Thompson, writes in her Memories of Edmund Symes-Thompson (1908, p.8) that among her husband's ancestors "was Dr. Samuel Wathen, M.D. of Aberdeen, 1752, who practised in London during the latter part the the eighteenth century." Edmund's mother was Elizabeth Anna Maria Wathen, whose grandfather was the aforementioned Joseph Wathen. Although we know that Samuel Wathen can not be an ancestor of Edmund Symes-Thompson, as his wife believed, he may still be a relative.
Samuel Wathen, M.D. as a young man apparently lived in Bristol, a city in Gloucestershire County that sits only a few miles from the homes of the Wathen families of Stroud and Kings Stanley. In particular, Bristol sits only a few miles from the birthplace and home of the aforementioned Joseph Wathen.
Some of Edmund Symes-Thompson's ancestors are associated with the town of Dorking in Surrey, as is Samuel Wathen M.D. In particular, Joseph Wathen's son Nathaniel married Mary Beadrmore, whose family owned the manor house of Juniper Hall in Dorking. Juniper Hall sits a very short distance north of Burford Hall where Samuel Wathen M.D. probably lived. However, to be honest the timing is not quite right, as Samuel Wathen M.D. lived in Dorking from about 1779-1786, whereas the Beardmore family did not move to Dorking until after 1800. Nonetheless, the Dorking connection is an unusual coincidence.
Some of Edmund Symes-Thompson's ancestors, in particular Joseph and Ann Wathen, as well as the Beardmore family, were close friends of the Rev. John Wesley, as was Samuel Wathen M.D.
Samuel Wathen, M.D. had a younger brother named Jonathan who died in his 80th year in East Acton, Middlesex on Jan. 17. 1808, which means 1728 is the latest year Jonathan could have been born. coincidently, Joseph Wathen had a younger brother who was also named Jonathan, and who was baptized in Stroud, Gloucestershire on May 24, 1728. The timing is such that the two Jonathans could in fact be the same man.
A will exists for Jonathan Wathen, the younger brother of Samuel Wathen, M.D. This will mentions "my nephew Nathaniel Wathen", and names Nathaniel's brother Samuel as a nephew also. Nathaniels's wife Mary, and Samuel's wife Elizabeth are also mentioned. Nathaniel of course is Nathaniel Wathen (1772-1856), the clothier of Stroud, and this makes Nathaniel's father Joseph Wathen (1726-1786) the brother of both Samuel Wathen, M.D. and the aforementioned Jonathan. (more on the will of Jonathan Wathen)

Samuel Wathen (c.1720-1787), the son of Jonathan Wathen and Sarah Watkins, was probably born in Stroud, Gloucestershire, as he was baptized there on June 21, 1720 in the parish church. The next mention we have of him is a letter dated April 9, 1737 in which the Rev. John Wesley, the founder of Methodism, writes from Bristol, Gloucestershire that on April 4 a young Samuel Wathen was one of four men that the good Reverend led to Christ, in fact the first ever in Wesley's career as a preacher. There seems to be no doubt among Wesley scholars that this Samuel Wathen went on to become a surgeon. Wesley also informs us as that Samuel was a young man at the time, and we would in fact put his age at probably just 16 or 17 years old. Then in another letter dated April 26, 1739 we learn from Wesley that Samuel Wathen's mistress accepted Christ as well. Presumably, this woman, whose name is not revealed, was his girlfriend and never became his wife, as when Samuel Wathen married Martha Allanson 7 years later, he is listed as a bachelor.

Samuel next appears in 1745, when we find him practicing as a physician in London, where he is called upon to testify at a trial (#230 of 1745) at the 'Old Bailey' courthouse. Then on June 10, 1746 he was admitted to the Surgeon's Company in London, which would imply that he had first become a surgeon's apprentice about 1739, seven years learlier. Though it is speculation, it would seem likely that he served his apprenticeship under Dr. Nicholas Munckley (c.1721-1770), a prominent London physician who was originally from Gloucestershire. Samuel's admission papers also clearly state that he is the "son of Jonathan Wathen of Stroud Water in the County of Gloucestershire, Clothier."

Samuel also becomes Reverend John Wesley's personal physician, and he is mentioned several times in Wesley's journal and letters, as well as in the writings of Wesley's younger brother Charles. Samuel's brother Jonathan also testifies at a trial (#341 of 1749) at the 'Old Bailey' in 1749 that for the last 4 years he had been serving as Samuel's apprentice in the medical profession. Jonathan Wathen (1729-1808) went on to become a successful London surgeon in his own right, as well as an eye doctor who is sometimes referred to as one of the founding fathers of ophthalmalogy. Jonathan was also the step-grandfather of the celebrated Sir Jonathan Wathen-Waller (1769-1853), who was Royal Physician to Kings George III and William IV.

As noted already, we do not know what became of the early "mistress of Samuel Wathen" mentioned by John Wesley, but Samuel married Martha Allanson (c.1724-1747) on April 29, 1746 at St. Katherine Coleman Church in London. Martha was the posthumous daughter of Capt. Edward Allanson and his wife Susannah Gammon. She lived only a short time and died at the age of 23 on August 13, 1747 in London, and was buried on Aug. 19, 1747 in the parish of Stoke Newington, where there is a memorial tablet for her at St. Mary's Church.

Samuel less than two years later married again, this time to Mary Scott (1726/27-c.1750), the daughter of a salter named Thomas Scott, who is mentioned many years later in Samuel Wathen's will. The marriage took place on March 30, 1749 at St. Andrew Undershaft Church in the Aldgate ward of the City of London, where his sister Christian had married the year before. Mary gave birth to one daughter, Mary Scott Wathen (b. 1750), afterwhich she disappears, presumably becoming the second wife of Samuel Wathen to die prematurely. The timing is such that Mary Scott may have died in childbirth, but this is speculation. Her death left Samuel as the single parent of their daughter, who at most was no more than a few months old, if not a newborn.

Samuel remarried very quickly, choosing for his next wife Elizabeth Malthus (d. 1807) on March 19, 1750 at St. Mary's Hill, London, only six weeks after the baptism of his baby daughter Mary, and less than a year after his marriage to Mary Scott. This new wife Elizabeth was from a very prominent family, being the daughter of barrister (a type of lawyer) Sydenham Malthus (c.1678-1757), but she is perhaps best remembered as the aunt of the celebrated economist Rev. Thomas Robert "Population" Malthus (1766-1834), who was one of the first to write on the dangers of mankind overpopulating the earth.

Although he appears to have been a practicing physician for some time, Samuel Wathen was admitted to the King's College in Aberdeen, Scotland on the recommendation of Dr. Nicholas Munckley (c.1721-1770), a physician at Guy's Hospital in London and a member of the Royal Society. Samuel graduated a doctor of Medicine on Sept. 28, 1752, and he was subsequently admitted to the Royal College of Physicians on Sept. 30, 1756, going on to became one of London's best-known physicians. In addition to being a surgeon and personal physician, he also was one of the governors of the City of London Lying-in Hospital on City Road where he was a man-midwife extraordinary. He was in fact listed on the Royal Kalendar of 1766 as man-widwife to the Queen, which must have been Sophia, wife of George III. This makes it likely that he attended Queen Sophia when William IV, the heir to the throne was born.

For many years Dr. Wathen had a house on Great Cumberland Street in St. Marylebone, London, near the northeast corner of Hyde Park, but prior to 1779 he moved to Dorking, Surrey. There exists today a Wathen Road that some say is named after him. However, it seems more likely that this road is named after the Lady Elizabeth Jane Wathen, who married Samuel's grandson Augustus Wathen and lived at Shrub Hill, very close to where Wathen Road joins Rothe Road on the northest side of town. Wathen Road today is best known as the birthplace of the actor Sir Laurence Oliver. Charles Dickens also wrote most of the 'Pickwick Papers' while staying in a house at No. 35 Wathen Road. Samuel Wathen's Dorking residence was probably a short distance north of Wathen Road at Burford Hall, which had been built in 1774 by his son-in-law John Eckersall near the base of Box Hill, on the road between Dorking and Mickleham.

Samuel and Elizabeth Wathen after the 1786 marriage of their youngest daughter Anna moved to Wrington, Somersetshire, where they probably lived at the Old Rectory on Broad Street with Anna and her new husband the Rev. William Leeves (1748-1840). Samuel Wathen died shortly thereafter on July 26, 1787 at Wrington, and was buried on Aug. 3, 1787 in Wrington. Elizabeth died in 1807 at the Rectory, and she was buried on April 17, 1807 in Wrington. Both are almost certainly interred at All Saints Church, as there were monuments for members of the Leeves family that were removed from the church interior during an 1859 restoration, then in 1960 these monuments were moved a second time. Some sort of monument for the family is believed to exist today just outside the church near the southeast corner, but it is not known if any inscriptions on it survive. William Leeve is interred under the high altar of the church, and his wife's name is mentioned on his memorial plaque. There is also a window to the Leeves family on the south wall of the chancel. Samuel Wathen left a will, which was proven on Aug. 10, 1787 and is available from the British National Archive and from Ancestry.com.

Samuel Wathen had several children. The six we know about are listed below, but there may have been more. The eldest daughter is from his marriage with Mary Scott, and the other children are from his marriage with Elizabeth Malthus. There is a picture painted by George Knapton in 1755 of Samuel and Elizabeth Wathen with their daughters that hangs in Aston Hall, an auxiliary building of the Birmingham City Art Gallery, with prints available for purchase on the museum website.

Please see the Wikipedia article on Samuel Wathen for more information.

children - WATHEN
---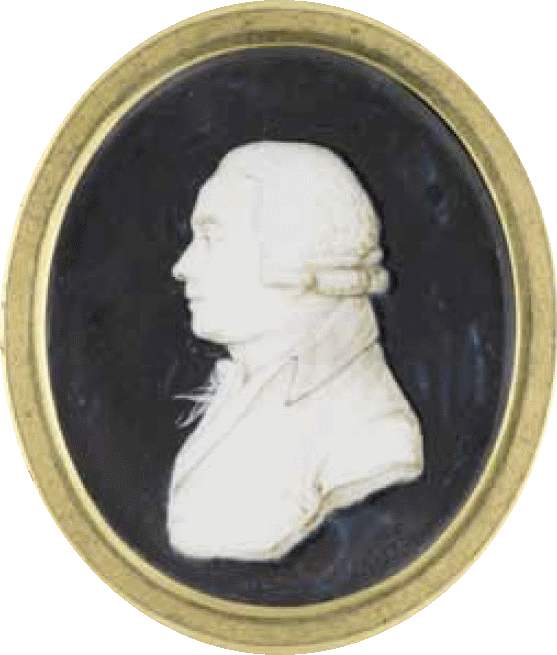 Jonathan Wathen - A few words are in order for Jonathan Wathen (b. c.1728-1808), the surgeon, who is the younger brother of Samuel Wathen, M.D., and also appears to be the younger brother of Joseph Wathen, clothier of Stroud. He was born in 1727 or 1728, not 1729 as is often reported, and apprenticed as a physician in London under his brother Samuel - the term of that apprenticeship beginning about 1745. Their association appears to have lasted 15 or more years, and it would seem likely that at some point Jonathan graduated from apprentice to partner. When Samuel was studying medicine at the King's College in Aberdeen from 1752-1756, Jonathan was located at Devonshire Square in London, and one might assume that he carried out most, if not all of the responsibilities of their practice, if the partnership still existed at that time. The two also practiced side by side at the City of London Lying-in Hospital, where Samuel for many years was a man midwife extraordinary.
(A miniature portrait of Jonathan Wathen created in 1798 by the artist Henri de Janvry (1768-1843) is shown on the right. It appeared in November 19, 2014 in an auction catalog by Bonham's of New York.)
Jonathan at some point, possibly around 1760, established his own practice at Bond-court, in Wallbrook, London, with his brother in a separate practice at Great Cumberland Street in St. Marylebone. About this same time, Jonathan on June 8, 1761 married Anne Waller, the widow of John Allen, in the parish of St. Botolph Bishopsgate in London. One James Wathen, possibly Jonathan's uncle James (b. c.1687) but more likely a younger relative, was one of the witnesses at the wedding. Jonathan became stepfather to Anne's daughter Mary Allen, who ultimately took the name Ann Wathen, and later married a man named Joshua Phipps. Mary and Joshua, in turn, had a son named Jonathan Phipps, who assumed the name and arms of Waller in 1814 as an adult to become Jonathan Wathen-Waller.
Although Jonathan Wathen never received any formal medical training, as did his brother Samuel, he published widely, and became very well known. He always referred to himself as a surgeon, but he actually specialized in diseases of the eye and throat, and he is at times referred to as one of the fathers of Ophthalmology in England. However, that term is bestowed more often on a physician named James Ware (1756-1815), who Jonathan took on as an assistant at Bond-court in Wallbrook, London in 1777. The next year the two entered into a formal partnership, with Ware holding a one-fourth interest, that lasted until 1791 when Ware started his own practice. Although Ware ultimately became the better known of the two, and was even admitted as a Fellow to the Royal Society, he always acknowledged in print his debt to his mentor and former partner Jonathan Wathen.
When Wathen and Ware dissolved their partnerhip in 1791, Jonathan took on his step grandson Jonathan Phipps as an apprentice. The younger Jonathan, who upon being knighted in 1814 took the name Sir Jonathan Wathen-Waller (1769-1853), utlimately became the Groom of the Bedchamber to King William IV, and was much celebrated as an eye doctor to both George III and George IV. The elder Jonathan, having achieved reknown equal to that of his brother Samuel Wathen, M.D., died on Jan. 17, 1808 at East Acton, Middlesex in his 80th year.
Jonathan Wathen left a will that is available in the Public records office of the British National Archives. This will, which was proved Feb. 1, 1808 in London, mentions Jonathan's nephew George Wathen (probably the son of Samuel Wathen, M.D.) and George's wife Marianne. It also mentions another nephew Samuel Wathen (probably the son of Joseph Wathen) and Samuels's wife Elizabeth. Most important to this lineage is the following mention at the bottom of the 11th page of the will and continuing onto the 12th page where Jonathan leaves a bequest "unto my nephew Nathaniel Wathen (if now living) ... [and] unto Mary Wathen his present wife". Because Nathaniel is also a son of Joseph Wathen, this links Jonathan Wathen, surgeon of London, Samuel Wathen, M.D. and doctor to Rev. John Wesley, and Joseph Wathen, clothier of Stroud as brothers.

Please see the Wikipedia article on Jonathan Wathen for more information.

---
Branch IV - The Wathen Family of Picked (Peaked) Elm Farm
Peaked Elm Farm, which was originally known as Picked Elm Farm (meaning "pointed" or "spiked"), is a 17th-century farm on Selsey Hill in the parish of Kings Stanley that sits just across the cemetery from All Saints Church. The history that follows is from British History Online. "An estate at Selsley, later called PICKED ELM FARM, was owned by John Wathen in 1737 when he settled it on the marriage of his son John. The younger John was apparently the one that died in 1744, and the elder the John Wathen that died in 1752. In 1765 the estate was settled on the marriage of Thomas Wathen, the son of the younger John. Thomas Wathen or another of the same name died in 1819, when his heirs were his daughter Anne, who married Sir Paul Baghott, and his grandson Samuel Edwards. By 1839 Picked Elm Farm with 52 acres had passed to David Powell Sands, and in 1890 Mrs. Mary Sands sold the estate to Charles Pool (d. 1903). Charles Pool was succeeded by his two sisters, Beata Prout and Elizabeth Pool, who devised their shares of the estate before 1907 to Beata's son, J.C.P. Prout, who sold it in 1918 to Sir William Henry Marling of Stanley Park. The house, dated 1632, is of stone with gables, stone-mullioned windows with dripmoulds, and a stone chimney with a decorated cap."
Thomas Wathen (b. 1651), second of the name, and the son of Thomas Wathen I (1627-1685) of Kings Stanley, was born Nov. 8, 1651, his birthdate being recorded with two of his siblings in the Kings Stanley parish register. He married Ann Wright on April 2, 1668 at Wooten under Edge, Gloucestershire. He was buried on March 17, 1717 in Saint George's Churchyard in King's Stanley, where his remains reside in a chest tomb that is grouped in a family plot with several similar tombs for other members of his immediate family.

children - WATHEN

---

Branch V - Sir Charles Wathen, the Mayor of Bristol

The ancestry of Sir Charles Wathen (1833-1893), the six times Mayor of Bristol, is very uncertain. An obituary for Sir Charles that was published on page 5 in the Wednesday, Feb. 15, 1893 edition of the Western Daily Press, a well-known Bristol newspaper, states that "the deceased [Sir Charles Wathen], who was 61 years of age, was connected with the wholesale and export clothing trade, and had for an ancestor Sir Samuel Wathen, of Stroud, whose son was Sir Paul Bagot, he having assumed that name. A large mill near Stroud was called "Paul Wathen's mill", and the deceased's father, one of the firm who owned it, subsequently came to Bristol, as the firm was dissolved.". Sir Samuel Wathen (1748-1843) was the former High Sheriff of Gloucestershire, and he leased a well-known woolen mill in Gloucestershire known as the Woodchester Mill that in time was acquired by his sons, one of whom was indeed named Charles. The family is also associated with the nearby Rooksmoor Mill. This would seem to indicate that Sir Charles is the grandson of Sir Samuel Wathen. However, there are some issues with this interpretation that remain to be resolved. Below is what we have been able to find out about Sir Charles and his family.

Charles Wathen Senior (c.1777-1852), the father of Sir Charles Wathen, was born about 1777 in Stroud, Gloucestershire, according to the 1851 U.K. Census. He married a much younger woman from Stroud named Mary (c.1796-1869), and he is said in the obituary of his son to have owned a mill in the Stroud area that was being worked by Paul Wathen (a.k.a. the Paul Baghott we mentioned earlier). However, business at the Wathen mill ceased at some point, and Charles relocated with his family to Bristol. He then appears in the 1841 U.K. census in the parish of St. James in Bristol with wife Mary, who was 20 or so years his junior, and three children, including his 9-year old son Charles Junior.

The family next appears in the 1851 census at 16 Winsford Street in the nearby parish of St. Philip and St. Jacob. The occupation of Charles Senior is given in the census as victualler, which means that he probably ran a pub, and the younger Charles is shown working as a clerk in a linen warehouse. The elder Charles died on May 1, 1852 at his house on Winsford Street with his son Charles in attendance. Although his occupation is given on his death certificate as "clothier", we are pretty certain that this was a past occupation, and that at the time he actually ran a pub. He was subsequently buried on May 6, 1852 in the cemetery for St. John's Church in Bedminster, which is just a short distance from his residence on Winsford Street. His reported age at burial is 75 years, but he certainly could have been older, as 75 years of age was what he would have told his much younger wife. Unfortunately St. John's Church church was burned out in 1940 by incendiary bombs during the Battle of Britain, the tombstones have since been removed, and the grounds in 1967 converted to a grass-covered park in the middle of the city. His wife Mary died on March 17, 1869 at Windmill Mill (modern Victoria Park), which is also in the St. Philip and St. Jacob parish, and is less than 1.5 miles from the Winsford Street address where Charles died 17 years prior. No details of her burial are known.

There is a Wathen family listed in the 1861 U.K. Census at Windmill Hill in the Bedminster part of Bristol, which is just a little more than a mile from the aforementioned family that ten years prior lived at Winsford Street. The head of this household is a widow named Mary, said to be born c.1799 in Bristol, with daughter Elizabeth (b. c.1839), and grandchildren Caroline (b. c.1849) and James (b. 1851), all born in Bristol. There is also a note that Mary's husband had been the owner of a pub. This is probably the immediate family of Sir Charles Wathen. If so, one of Sir Charles' siblings, probably his bother James, had married by this time and had children Caroline and James, who are now being cared for by their grandmother Mary.

The parents of Charles Wathen Senior are never mentioned, except for the passage we quoted from his son's obituary, so all we know for certain about his origins is that he was born about 1777 in Stroud, Gloucestershire as recorded in the 1851 census. However, we are told in the Daily Mail obituary that Charles Wathen Senior owned a mill in or near Stroud that was being worked by Paul Wathen (a.k.a. Sir Paul Baghott) in the early part of the 19th century. Paul Wathen as it turns out had a younger brother named Charles Wathen. This brother was probably born in or near Stroud, and baptized in 1774 at Rodborough, which is adjacent to Stroud.

It is tempting to identify the Charles Wathen who is the brother of Paul Baghott, with the Charles Wathen Senior who is the father of Sir Charles Wathen. The problem with this is that there is a Wathen Family bible that has entries beginning with the 1769 marriage of Sir Samuel to Margaret Peach, and continues with dated events to the 1890s that chronicle the births, marriages and deaths of many of Sir Samuel's descendants. There are three entries for Sir Samuel's son Charles covering his three marriages and his children, and nowhere is there any mention or clue that he had a son who became Sir Charles Wathen, Mayor of Bristol. If Charles Wathen, son of Sir Samuel, is the father of the famous mayor of Bristol, then the elder Charles Wathen had to have taken a much younger fourth wife late in life, and fathered children over a 30-year period. This is admittedly possible, but it would be unusual, and given that several Charles Wathens lived in the Bristol and Stroud areas at about the same time, more documentation is needed to verify this and to sort out who is who.

chiidren - WATHEN

Children adopted by Sir Charles Wathen and his first wife

REFERENCES: