Genealogy of the Clark Family


(version September 4, 2017)
Please email corrections to Mike Clark

James F. Clark, Jr. (1924-1999)
by Michael S. Clark (with help from Phil Clark)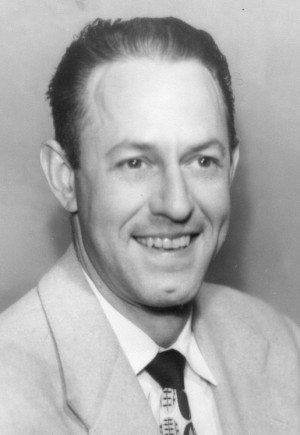 Early Years - My Dad, James Frederick Clark, Jr., the only child of James F. Clark, Sr. and Mary Louise de Harne, was born on Nov. 9, 1924 at the old Kapiolani Maternity Home on South Beretania Street in Honolulu. He was delivered by Colonel Clarence Fronk, who was a surgeon at Triple Army Hospital in Honolulu, and a valued family friend. Fronk also delivered Dad's cousins Vic and Halden de Harne.
James, Sr. wanted his son to be named Jamie, the Scottish version of his own name, but the clerk at the registrar's office in Honolulu incorrectly entered the name as James. The family called the younger James by the nicknames of Jimmy and Junior, but he very much disliked the latter.
Dad was baptized a few days later on Nov. 27, 1924 at Our Lady of Peace Cathedral on Bishop Street in downtown Honolulu by Most Reverend Father Stephen P. Alencastre. His Uncle Joe Walsh and Aunt Frances de Harne were his godparents. The cathedral was not the regular church that his family attended, but his baptism was a special event that they wanted performed at the main church in the city. They normally attended Sacred Heart Catholic Church on Wilder Avenue, which was the same church where his parents had been married. It was located just a few blocks from their house. Dad later served as an alter boy at this same church.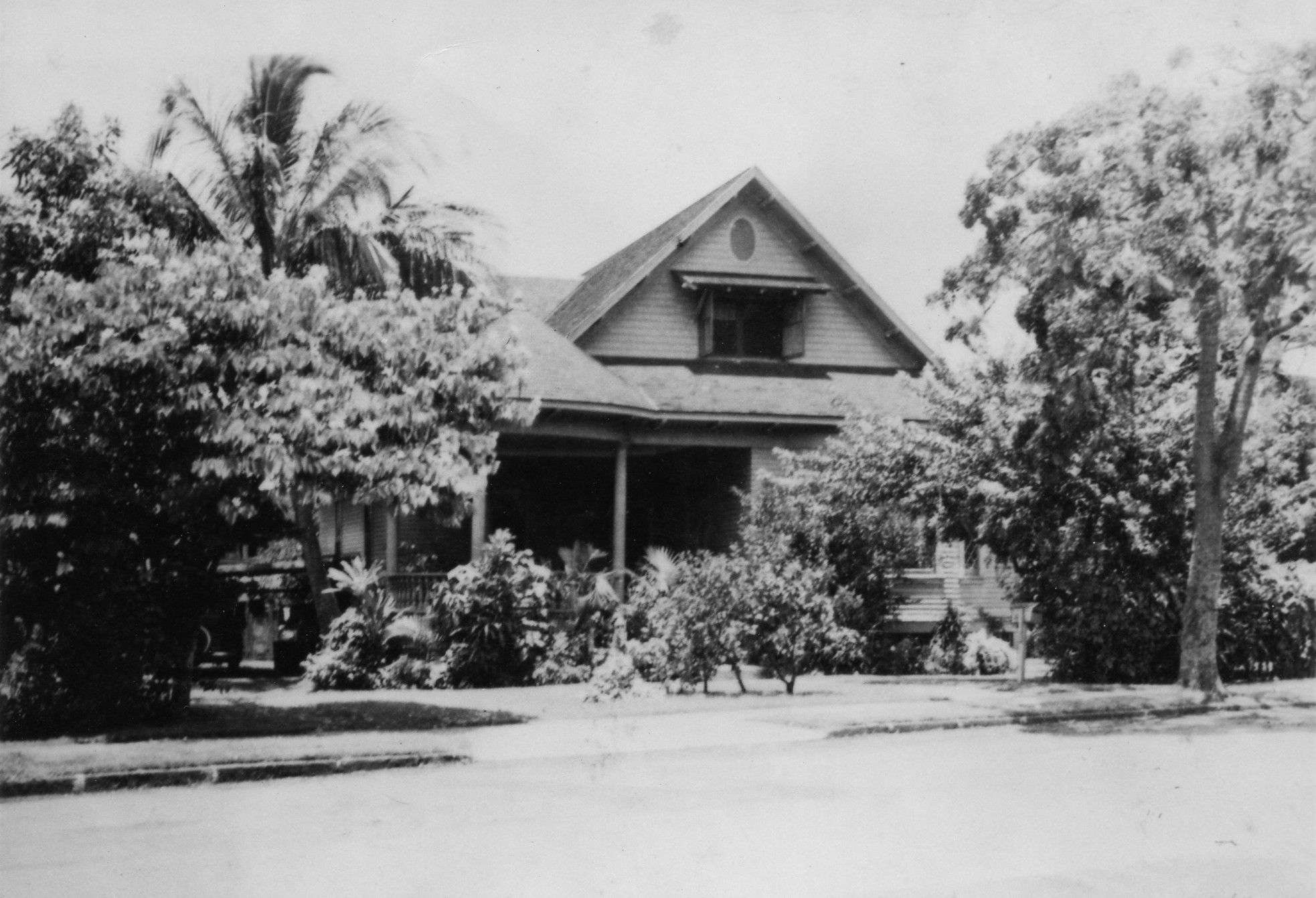 Dad and his parents lived with Grandma Frances de Harne in a large house at 1245 Wilder Avenue, which is located in the area of Honolulu that is near Tantalus and the Manoa Botanical Gardens. Dad's aunts Helen and Eleanor, and his uncle Eddie lived there as well, at least until Eleanor married Doug Dwyre, and Eddie married Edna McHicholl, and they moved out. There were two upstairs bedrooms, and Dad and Dad and his parents had one of these, and Eddie had the other. However, when Eddie moved out, which was about 1932 when Dad was 7-years old, Dad got Eddie's old room, which left him and his parents with the entire second floor of the house.
Eddie was the youngest of the de Harne boys, and the last to leave home. This was during prohibition when alcohol sales were illegal, and Dad remembered that while Eddie was still at home he used to make a pineapple gin that he called "pineapple swipes". Eddie would have a bucket of fermenting pineapple juice sitting under the stairs, and Dad was told to kick the bucket every time he went by it to stir things up and help the fermentation process.
Dad's cousin Hazel, who is younger than he, came sometime in the 1930s to live at Grandma de Harne's house, because her parents, Paul and Emma, had seven other daughters, and they could not care for all of them. Hazel did not like Dad for some reason that he never confided to us, and when we saw her at Aunt Helen's house (single Helen) many years later on a trip to Honolulu, she had no interest in talking with him. She passed by the door to the room where we were visiting with Helen, politely waved, and walked off to another room.
Helen inherited the house in 1959 when Grandma de Harne died, and Helen sold it soon afterwards so that she could move to a smaller, more modern place, where Hazel in later years lived with her. Grandma's house was subsequently torn down, probably in the 1960s or so, and site where it stood is now a parking lot for strip mall - Makiki Shopping Village at the corner of Liholiho and Wilder.
School Years and Sports - Dad attended elementary school at a Catholic Primary School that was run by the Mary Knoll Catholic missionary group. It was located on Wilder Avenue in the same block as the Sacred Heart Catholic church that his family attended. Dad never went to kindergarten, but he did attend grades 1 thru 6 at Mary Knoll.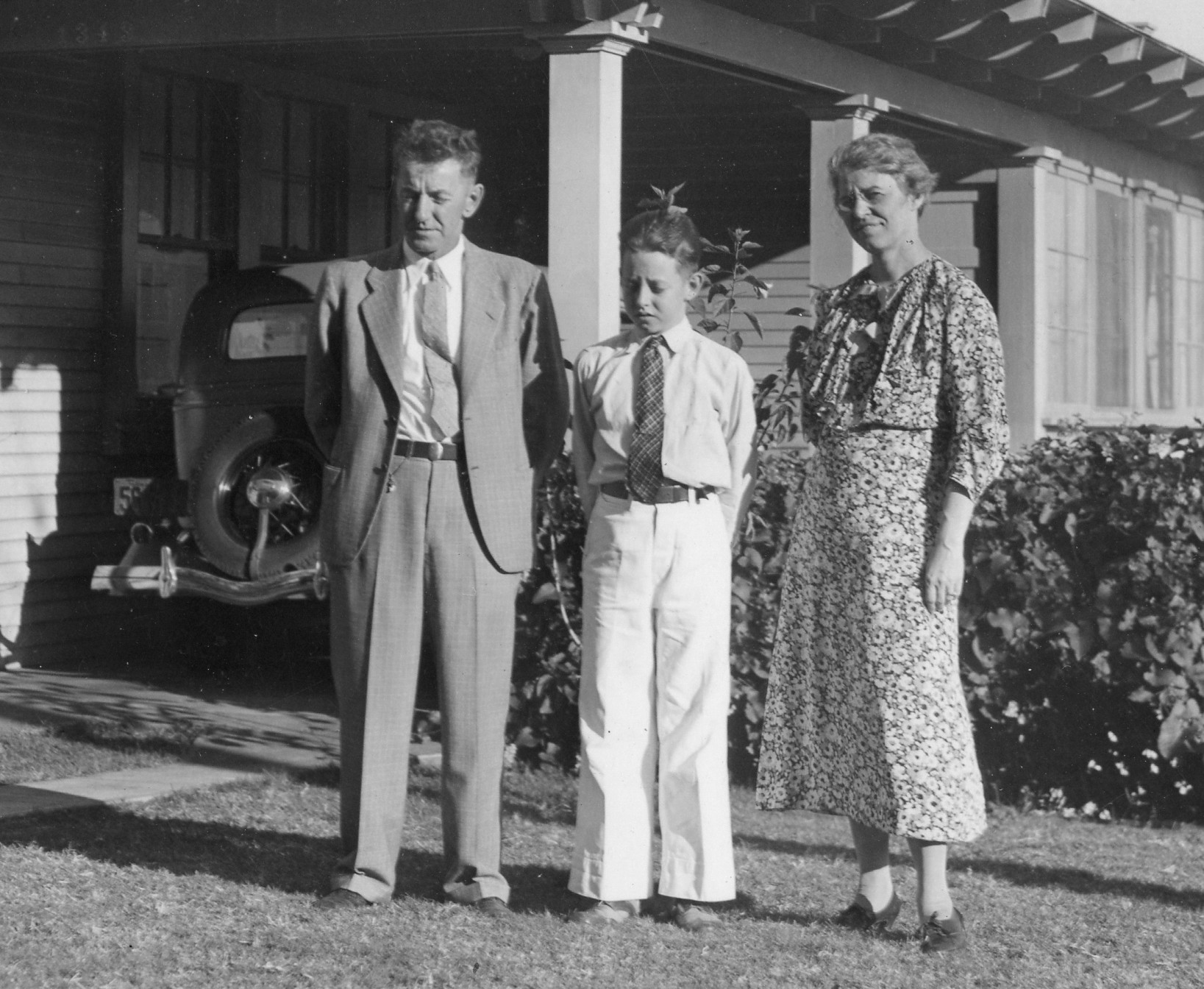 Dad next attended St. Louis College, which was a Catholic school for boys in grades 7 to 12. It was run by the Society of Mary Catholic missionary group, and it was located a couple of miles down the street from Grandma's house. Dad's Uncle Eddie graduated from St. Louis College a few years earlier.
Classes at St. Louis College where taught by priests, and they maintained a policy of very strict discipline. Dad remembered one teacher named Brother Ernest Silva, who threw tennis balls at the backs of boys who failed to pay attention in class. Brother Ernest would also tell errant students to reach up high for him to pull down a map on a roller, then whack them on the backs of their arms with a yardstick. Fortunately, Dad never had Brother Ernest for a teacher.
Dad remembered another teacher named Brother David, who was native Hawaiian, and taught 10th-grade at the school. He warned his students never to yawn in class, as he considered this an insult. Yet one kid had the audacity to yawn in class anyway, and he was slapped out of his chair by Brother David.
St. Louis College had an excellent football team, but Dad was too small to play. However, he did get to play barefoot football with the Makiki Park team, which was an inner city team from his neighborhood that played with the city league. Makiki Park is located on Wilder Ave just a couple blocks from Dad's house, and he had lots of tales about kids getting sprained ankles and broken toes during barefoot football games in this park. Dad and his friends would also play football and other games at Thomas Square Park, which had a huge Banyan Tree that was great fun to climb on, and play tag beneath the branches.
Hobbies - Stamp collecting was a very popular hobby in the 1930s, and Dad was an avid collector. The Attorney General's office where James Sr worked was near the post office, and James Sr. often brought stamps and cachets home from the post office for Dad's collection. Some of these cachets were quite elaborate, and we still have one with signatures on it of the postmaster, and Joseph B. Poindexter, who was Governor at the time for the Territory of Hawaii. James Sr would also arrange to have First Day Covers sent to his son, and many of these we still have as well.
Dad used to talk about a stamp shop in Honolulu that I think was owned by a man named Mr. Best. The shop was very small, and Dad would go there from time to time to buy stamps for his collection. He also followed Mr. Best's advice to concentrate on collecting British Colonial stamps, as these were issued in small quatitites compared to the stamp issues from major countries, which meant they were likely to increase significantly in value in the years to come.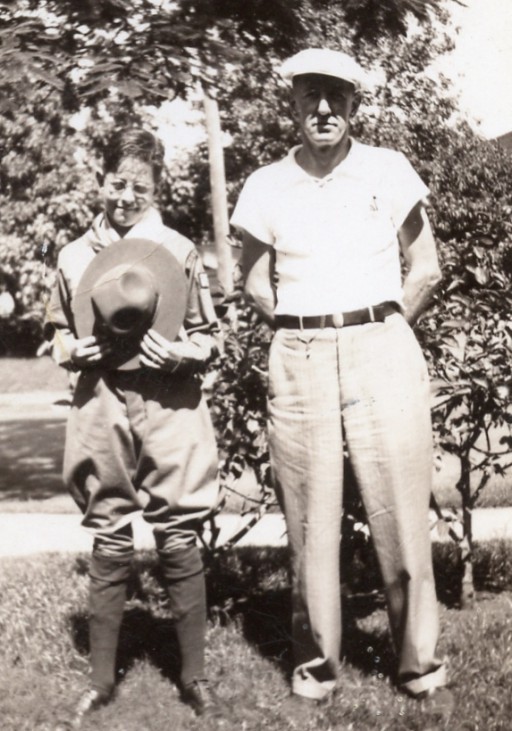 Boy Scouts - When Dad was 12 years old, probably about 1936 or so, he joined Boy Scout Troop 69, which was sponsored by the Elks Club that his father belonged to. The troop wore purple and white scarves, and they met once a week at the Elks Lodge. Dad reached the rank of Life Scout, and served for a term as the troop Senior Patrol Leader. He recalled that one of the more difficult merit badges that he earned while with this troop was Bird Collecting, which was one of the merit badges required in those days to reach the rank of Eagle.
One year the troop went on a bicycle trip around the island of Kauai. They had a fabulous time on this adventure, which included an an ascent of Mt. Wai'ale'ale, which has the reputations of being one of the wettest spots on earth. It was a very muddy ascent all the way up to a rain gauge on the summit. Some of the descent was done by sliding on tea leaves down muddy gullies, which resulted in torn jeans on several of the boys. Dad also recalled seeing a mysterious stone wall on this trip that was reputed to have been built by the Menehune, who are the legendary, elf-like little people of the island.
Although Dad loved Boy Scouts, he left the scout troop as soon as he turned 15-years old, so that he could join Sea Scouts and go sailing. He reached the rank of able-bodied seaman with the Sea Scouts, which allowed him to go on sailing trips, and he ultimately went on several voyages. The scout ship was a motorcruiser named the SS Sbank, and the Sea Scout council about this time also received the gift of a yacht from the Trans-Pacific yacht race. This second ship was a large two-masted schooner some 40- to 45-feet long, and Dad was able to sail on it as well. He was in Sea Scouts for about two years, then dropped out in the summer of 1941 right about the time that he had a motorcycle accident.
Youth Accidents - Dad fractured his skull in the 10th grade, which was probably in the spring of 1941 when he would have been about 16-years old. He had been given a ride in a touring car after a hike up in the rain forest near his house, and he was riding on the bumper of the car when he fell off onto the street and hit his head. He also ruptured his left eardrum, which resulted in a 25% to 30% loss in hearing on that side.
He was in the hospital for about two weeks under the care of a Dr. Cloward, who warned him that the injury might result in an attitude change. When Dad came out of the hospital, he only had six weeks remaining to finish school, but his grades went down, so he dropped out. His intent at first was to go back to school when it started up again in the Fall, but he never did, which meant that he never graduated from High School.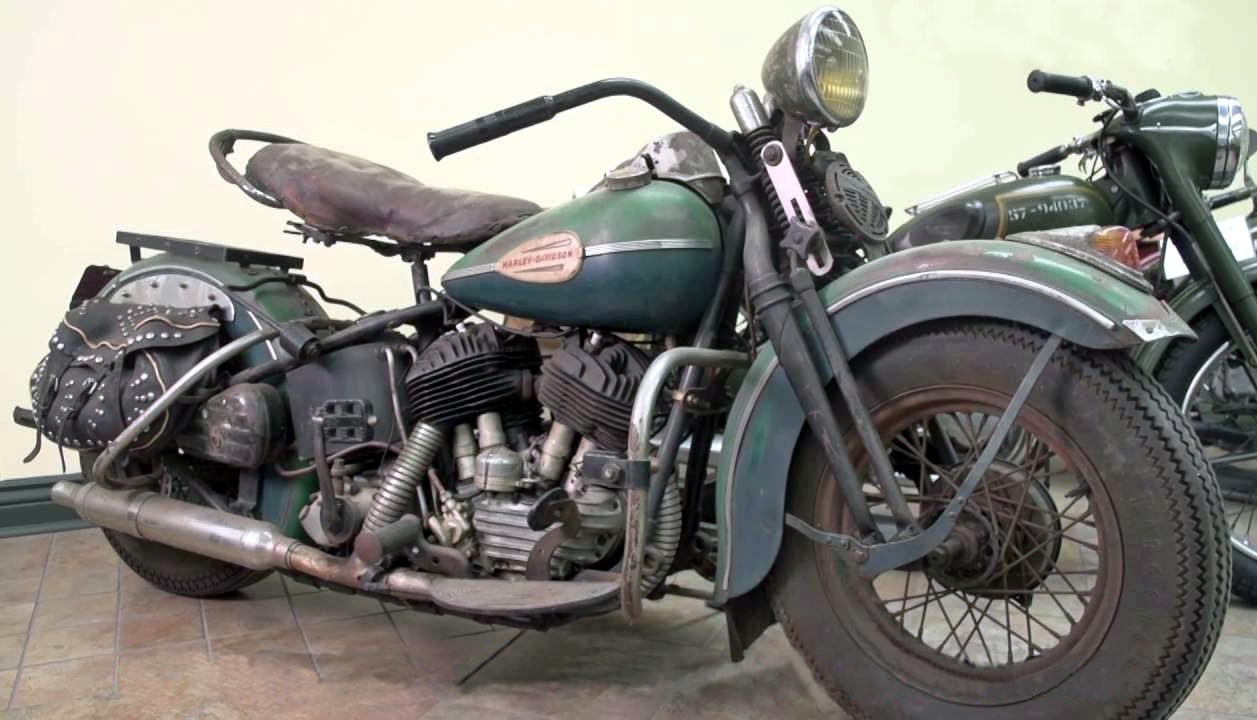 Dad was working at the time as a theater usher, and he was making what he thought was good money, so he proceeded in the summer of 1941, just before his 17th birthday, to buy a Harley-Davidson 74 motorcycle with overhead valves, which is popularly known as a "Knucklehead". As a 74 in2 engine equals about 1,200 cc, this is a pretty large bike for an inexperienced rider. The throttle for his Harley was on the right side of the handle bar, and he modified it by removing the throttle return spring, so that he could keep the throttle open and steer the bike with one hand, while smoking a cigarette with the other. A picture of a 1941 74 ci Harley Knucklehead is shown on the right.
Dad was badly skinned up soon after buying his Harley, when he dropped it on himself while riding through a bed of gravel on a turn near the end of Wilder Avenue. He was smoking a cigarette and riding with one hand. He later felt that his earlier accident, in which he fractured his skull, impaired his judgement. He fell on his back, and because the throttle was open, the bike spun around on top of him, grinding his back into the gravel. The resulting road rash was so bad that his father suspended the covers of his bed with wires to keep the sheets from touching his raw skin. He ended up spending his 17th birthday in bed with his father picking pieces of gravel out of his back, which cured his desire to own a motorcycle. He sold the bike shortly afterwards.
First Jobs - Dad's first job was when he was 12-years old, and he started out delivering newspapers for the Honolulu Star Bulletin (afternoon edition) for $4.00 a week. He eventually worked up to a wage of $30/month. He initially borrowed a bike from a friend to deliver the papers, but soon bought a bike of his own with his earnings. It was a Western Flyer that cost him $5.00 for a down payment, with payments of $5.00/week for the next several weeks.
He later worked for two weeks in the Attorney Generals Office as a junior clerk at $20/week. He had to get a social security number for this job, which his Dad had found for him. He also worked for two summers for the Hawaiian Sugar Planters Association (HSPA) at $1/day in a sugarcane research facility. Later, he received $1.25/week. Both jobs gave 6-days wages for 5-days work. He worked for HSPA when he was 14-years old, and he worked for them for two summers, which was probably the summers of 1939 and 1940 if we have the timing right.
When he was old enough, which was between the 11th and 12th grades, Dad got a job as an usher at the Varsity movie theater. He made a pretty good wage at the theater, and it enabled him to buy the motorcycle that we mentioned earlier. He remembered seeing the movie 'Gone with the Wind' during his job here dozens of times, as it was a blockbuster hit that had a long run at the Varsity.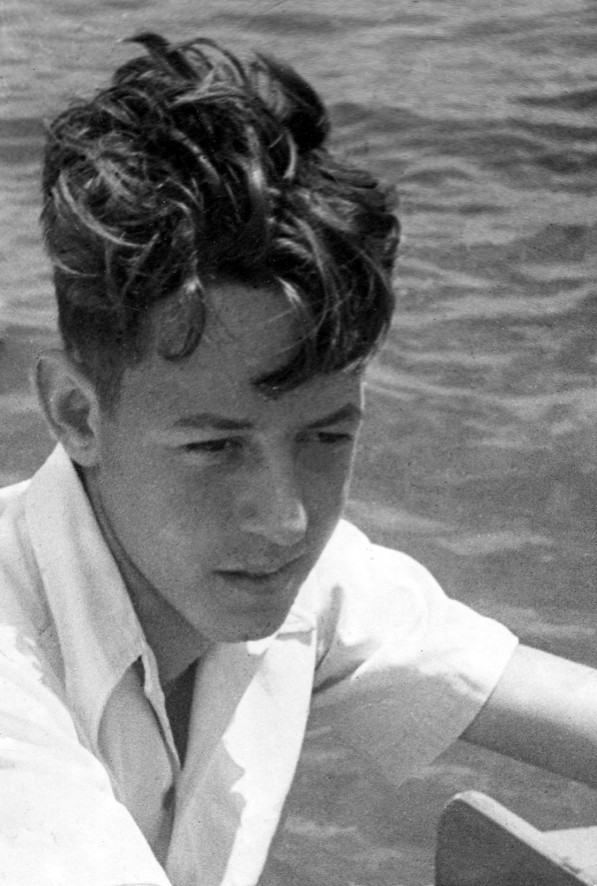 The attack on Pearl Harbor - Dad watched the Dec. 7, 1941 Japanese attack on Pearl Harbor from the roof of his house on Wilder Avenue. The attack started about 8:00 am on a Sunday morning, when Dad wad still asleep, but his Aunt Helen woke him up with the news of the attack, and he climbed out his bedroom window to get onto the roof. He remembered being able to look directly into the eyes of Japanese pilots as they flew low by the house on their way to strafe the harbor with machine gun fire.
His father James, Sr. was visiting with Helen and Maurice de Harne at their house in Wahiawa, having spent the night with them, and he and Maurice early in the morning saw Japanese planes flying over the mountains on leeward side of the island. James, Sr. immediately got in his car and raced back to his house and family. He drove by the battleship S.S. Arizona when it blew up and sank, and the blast was so strong that it rocked the car.
His mother Louise was in San Francisco, California when the attack took place, staying with Alice (her younger sister) and Lys Chelli while she underwent radiation treatments for cancer. The cancer had turned up the year before with three lesions in her left ear (cancer of the mastoid), and caused her a great deal of pain. She and her older sister Mary used to clean the wax out of their ears using bobby pins, and Dad felt that this may have been the cause of her cancer.
Dad and his friend Bill Souza went to the Scottish Rite Temple after the attack, and helped out as volunteer truck drivers for the Civil Defense. They made two trips to Hickham Field to haul wounded to Queen's Hospital. It was at the temple where Dad heard that the Army Engineers needed sentries to patrol at Punohou school, but he was underage and needed parental permission. When he went home that night and told his father about his ambulance duty, James Sr was very proud of his son's accomplishment, but he absolutely refused to allow the sentry duty. Dad maintained later that this confrontation was the reason he decided to quit school, but the timing seems off, as he actually dropped out of school several months earlier. Perhaps he intended at some point to go back to school, but this confrontation made up his mind to do otherwise.
Although James Sr would not let his son do sentry duty, he suggested that Dad contact his old boy scout troop to see what they were doing to help. This led Dad to patrolling Waikiki on Sunday nights with other scouts looking for fires. The theater manager where Dad worked as an usher also called, because Dad was needed to guard the theater on Monday and Tuesday nights.
The War Years - Dad and Bill Souza, who had also dropped out of high school, went to work for the Hawaiian Contractors, who were managing various jobs and construction projects for the military. They were hiring truck helpers at 50˘/hour, and Dad and his friend applied for the positions. Dad was 17-years old at the time, but he needed to be 18 to take the job. However, when the boss asked Dad his age, and Dad truthfully answered that he was underage, the boss replied right back that he did not hear what Dad was saying. After the boss repeated this a couple of times, Dad got the idea, and he and Bill started in on their new jobs immediately.
Although the truck job only lasted one week, Dad and Bill soon found work as electricians at the Fort Shafter army base. Dad quit this job two weeks later, and signed up to work for 75˘/hour on a crew digging tunnels for the military defense of the islands. He did not like the tunnel work at first, but later decided that it was okay. He also recalled that the best coffee he ever drank was the boiled coffee that the miners would brew on the job.
Dad over time worked several different jobs in the tunnels. He went from a general laborer to a chuck tender at 90˘/hour, and worked his way up from there to working as an actual miner at $1.25/hour. Other jobs included working on a gunnite crew, then as a steel worker, and finally a plumber. He liked the plumbing job, but it shut down after a short time. All of these jobs were either in the tunnels or associated with them.
When the tunnel work ended, Dad went back to work as an electrician, the same job he had started with. He went from there to working on a high-line crew on, where he would climb the electric poles, and he remained with this job until he was drafted into the army. He also at one point worked briefly as a carpenter. He spent about 2-1/2 years total on all these various jobs, which included the tunnel work and about 9 months on the high-line crew.
---
The Military Record of James F. Clark, Jr.
(serial number RA 30 114 952)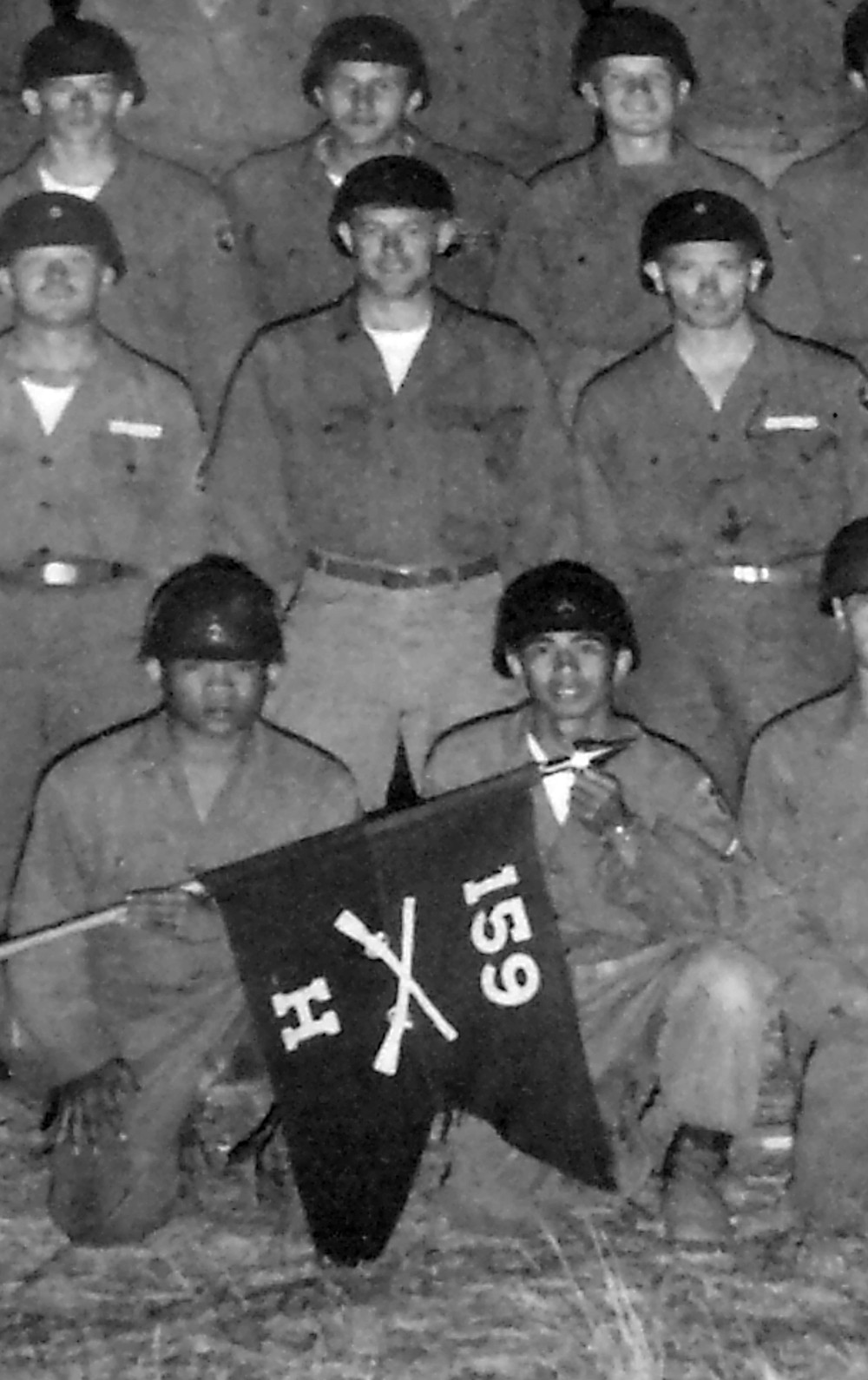 Dec. 28, 1942 - Registered for the U.S. Army draft, which was inactive in Hawaii at the time, as the U.S. Government decreed that all able-bodied men there were needed to fortify the islands in case of a second Japanese attack. However, it was possible to accept military service in lieu of a jail sentence, so some guys who would actually steal a car and then turn themselves in as a way to join the army.
Nov. 30, 1944 - Volunteered for the U.S. Army draft, when the prohibiton on accepting draftees from the Hawaiian Islands was lifted.
Dad was assigned to Company D of the 100th Training Battalion, which was made up entirely of men from Hawaii. They sailed to Los Angeles, and from there took a 5-day train ride by way of Santa Fe to Fort Moxey, which is near Paris, Texas. It was well known that Moxey was a "dry town" where liquor was illegal, so the entire train of 500 to 600 men was basically drunk the entire trip. However, Moxey was just a short distance from the "wet town" of Hugo, Oklahoma, where most days off were spent.
Fort Moxey was where Dad had his testing and basic training. He received a high score on the Army General Classification Test (AGCT), and was given the option at Moxey to be a candidate for Officers Training School, but he refused. He was also given the option of taking paratrooper training, but refused this as well. A photo of Dad taken in 1945 at Camp Moxey is shown on the right. It is a detailed view from a group picture of his training unit, which in the photo is identified as Company H of the 159th Battalion. The photo was probably taken at the end of basic training.
Following completion of his basic training, he went by train to Seattle, Washington to be sent overseas for duty. The train had a four-hour layover in El Paso, Texas, where everyone went to the local cantina in Juarez. However, a fight broke out, and the military police marched everyone back to the train. There was then a day off in Los Angeles and another in Ventura, before the train reached Camp Adair near Albany, Oregon. Here they stayed for ten days (two weekends) with a half-day spent cutting grass, and another half-day training. Next stop was a weekend in Salem, Oregon, where the nights were spent at the Crystal Ballroom (now gone), which had both upstairs and downstairs dance halls. Then finally on to Fort Lawton on the Puget Sound west of Seattle, Washington where they remained for two days before being shipped overseas.
Summer, 1945 - Sailed from Seattle on the SS President Jackson, a commandered luxury liner that carried 5,000 men. The voyage took 28 days, going by way of Ulithi Island (a small coral atoll) to Luzon, the main island of the Philippines, and the site of the capital city of Manila. There was no naval escort to Ulithi, but two destroyers accompanied the ship for the remaining distance to Luzon. Here an "invasion landing" was made about 55 miles south of Manila at Batankas Bay, where there was no harbor, which meant going ashore in an "LCI (Landing Craft Infantry)".
The voyage to the Philippines was boring for most, but there were a couple events of note. One non-commissioned officer who raised the ire of the men disappeared one night, and was presumed to have been thrown overboard. Another time the Captain of the ship learned that Dad knew how to make "pineapple swipes", the homemade gin that he used to help his uncle Eddie ferment under the stairs back home in Honolulu. Thus Dad was enlisted to make some for the men. However, the swipes were supposed to cure for awhile to be drinkable, but despite Dad's advice nobody had the patience to wait and they drank it green, which meant everyone except for Dad got sick the next day, including the Captain. They recovered though, and the voyage came to an end with the landing at Batankas Bay, where Dad recalled seeing piles of gas masks on the beach, as most soldiers considered them a nuisance and refused to carry them into combat.
Dad's military specialty was 745 (infantryman), and he was assigned as a causual rifleman replacement to the 55th Engineer Battalion Reinforced. He was qualified in both rifle and machine gun, but he carried an M1 rifle during his initial assignments. Later he carried a Browning Automatic Rifle (BAR), which could fire either in single-shot mode or in rapid-fire, short bursts. Though a formidible weapon, the BAR made a unique sound when fired, which meant that it attracted enemy fire as soon as it was used. He took part in "mop-up operations" which meant that his unit would go on patrols with an interpreter to look for Japanese soldiers, most of whom refused to surrender. The Hukbalahap (Communist Filipinos) caused as much trouble as the Japanese by raiding ammunition depots, and his unit had orders to shoot them on sight.
A second invasion landing, this one in combat, took place in an operation to secure a river mouth in the area of Lucena City. This was probably in the Tayabas Bay at the mouth of the Iyam River, where 50 to 60 yards of beach had to be crossed. Dad's landing craft (LCI) hit the beach in the 6th or 7th wave, which meant that the beach by then was pretty secure, and Dad was able to walk off the LCI with little danger of being shot at. The Japanese were pushed to the north towards a railroad, and caught caught between the beach contingent and a second force that came inland through the jungles. Dad also took part in operations in or near San Jose, Santa Cruz, Lipa, San Pablo and Lucena, and he witnessed a Banzai charge near Quezon City in the north.
Dad spoke of the tactics and ingenuity of the Japanese soldiers they fought in the Philippine jungles. The Japanese often hid in the jungle in camoflaged "pillboxes", which were bunkers of earth, stone or concrete. Pillboxes were always arragned in groups of three, with each pillbox protected by the other two. The Japanese would then cut waist-high tunnels radiating from the pillboxes through the jungle underbrush to give them a clear line of fire at American soldiers walking along trail. Then there was the Japanese soldier who was discovered and shot in a "slit trench' (latrine) that he had crawled through for several yards trying to sneek into an American camp.
There were other memories. One was Filipino villages built on stilts out in the jungle with steaming piles of garbage and human waste beneath the houses. Dad said you could smell them from a considerable distance away. Also, a meal of monkey brains that was considered a local delicacy, and a native gin made of wood grain alcohol that made you blind if you drank too much. These were all part of the experience.
Fortunately Dad was not wounded, but he did catch a mosquito-borne illness called Dengue fever. He assumed when the symptoms first appeared that it was Malaria, but learned otherwise after being treated. He also got a fungus infection of the gums known as "trenchmouth", which gave him a lot of trouble later in life, and eventually required that he have his teeth pulled so that he could wear dentures.
Aug. 15, 1945 - Victory (VJ Day) is declared. Dad learned about the victory over Japan while walking with other soldiers along a road when an officer in a jeep stopped to give them the news. However, military operations continued as many Japanese soldiers refused to surrender. This meant that even though the war was officially over, fighting continued for several more weeks, during which 50 to 60 American soldiers lost their lives in combat. The dangers were such that Dad did not think he would survive the war and make it home. But he did. The photo of Dad in uniform shown below and right was probably taken in January 1946 in Honolulu just after his return home from the war.
He was ultimately awarded three offical U.S. Military medals for his service in the Philippines during World War II:

Good Conduct Medal (a training medal)
American Campaign Medal
Asiatic-Pacific Campaign Medal with a battle star for the Philippine Area of Combat, and an arrowhead for an invasion landing

Plus the following non-standard issue medals (unit citations), which I believe came from the Philippine Government:

World War II Victory Medal (Philippine Commendation?)
Philippine Liberation Medal with one battle star (for mop-up operations?)

He also had the following U.S. Army pins and badges:

M1 Sharpshooter
Weapons Qualification Badge with separate bars on chains beneath for rifle and machine gun
Combat Infantry Badge
Nov. 30, 1945 - Re-enlisted in the Army as a Private 1st Class (PFC) in the Philippines for an additional year of duty. Those who re-enlisted received their choice of assignment, a 30-day furlough, and a $300 bonus. Dad at this point earned $76/mo in base pay, with another $10/mo for overseas duty, $10/mo for combat infantry, and $6/mo for being a PFC. Those who did not re-enlist remained in the Philippines.
Dec. 1945 - Chose Honolulu for his re-enlistment assignment, and made the voyage home on the Isaac Mayer Wise Liberty Ship (a freighter), arriving in Honolulu Harbor just after New Years Day. The voyage took 20 days, with a four-hour stop in Guam. As soon as he was in Hawaii, he was assigned to the Signal Corp at Fort Shafter, and he served at the Helemano radio station in the Koolau Range. He eventually transferred to the Army Reserves, and enrolled in the ROTC program as a student at the University of Hawaii.
One of two duffle bags that he tried to bring home from the war was stolen on the voyage home, and with it his war souveniers, including a Japanese rifle, photographs, and his military papers. The only picture that survived was a group photo taken in 1945 at Camp Moxey, a detail view of which exists. Another war souvenir that made it home is a Model 1911 .45 cal. Colt pistol (serial number 735059 made in 1941). We also have a picture shown below of Dad leading his ROTC training unit in Hawaii.
Sept. 14, 1949 - Commissioned a Second Lieutenant in the U.S. Army Reserves, probably on completion of ROTC at the University of Hawaii.
June 30, 1951 - Commissioned a First Lieutenant in the U.S. Army Reserves. probably after transferring to San Jose State College.
Sept. 4, 1952 - Transferred to the California National Guard, about 6 months after marrying Mom.
July 7, 1958 - Discharged from the California National Guard with the rank of Captain. He stated to me that by 1958, after nearly thirteen years of military service, he had become "fed up" with the National Guard, and the army in general, and that he could no longer put up with the incompetence and tyrannical attitudes of his commanding officers. There is a picture shown below taken of Dad leading his California National Guard unit.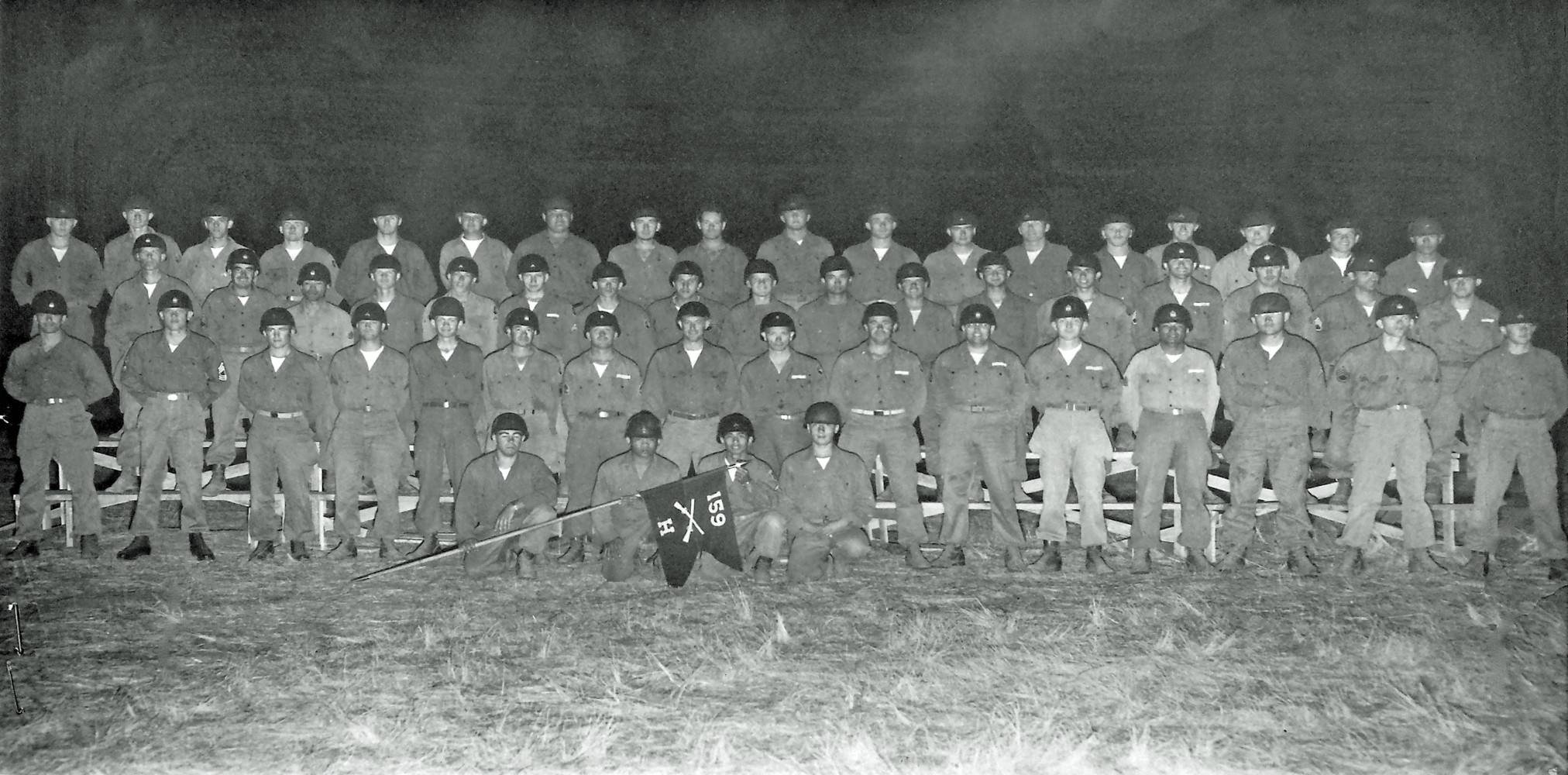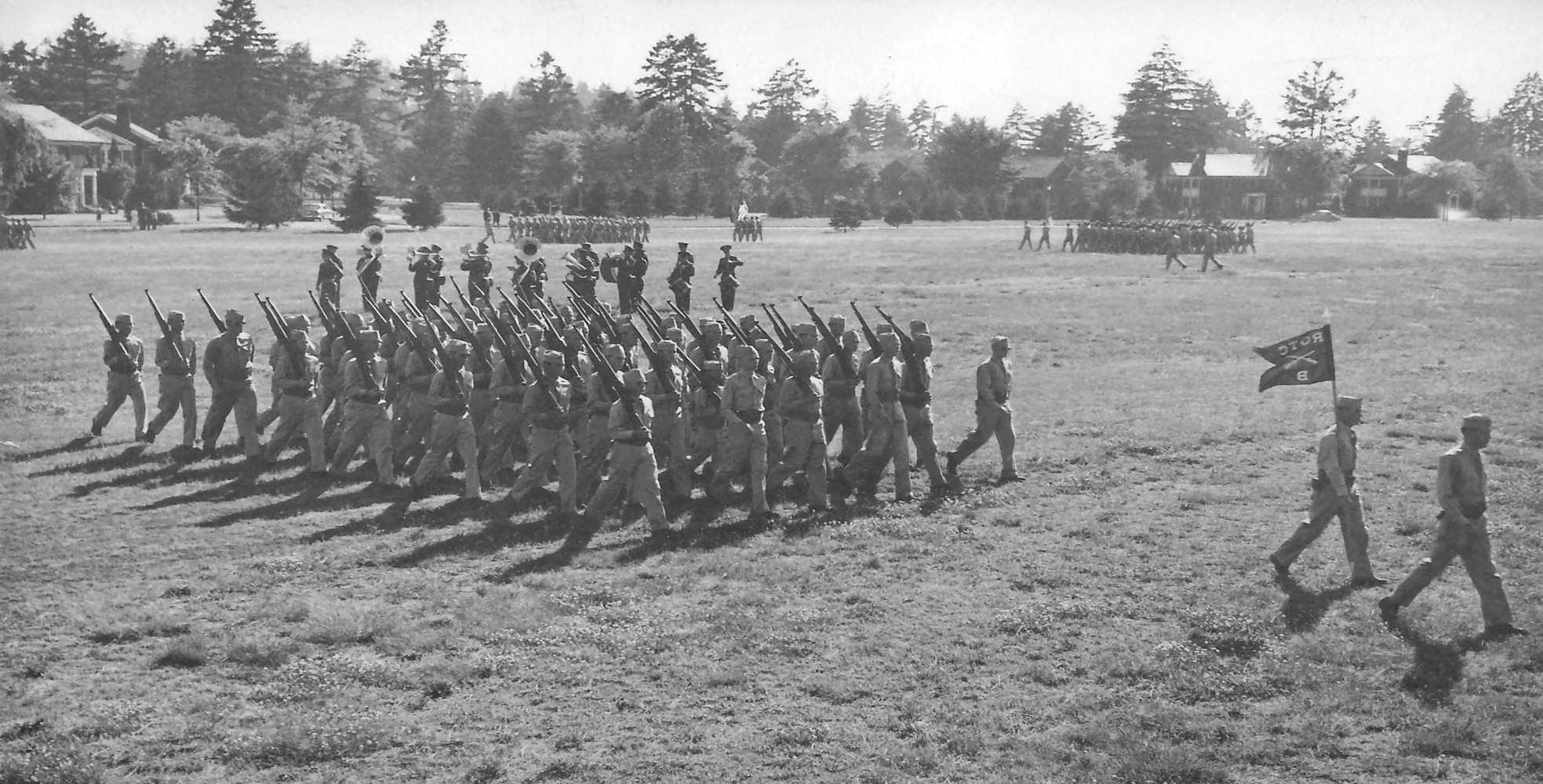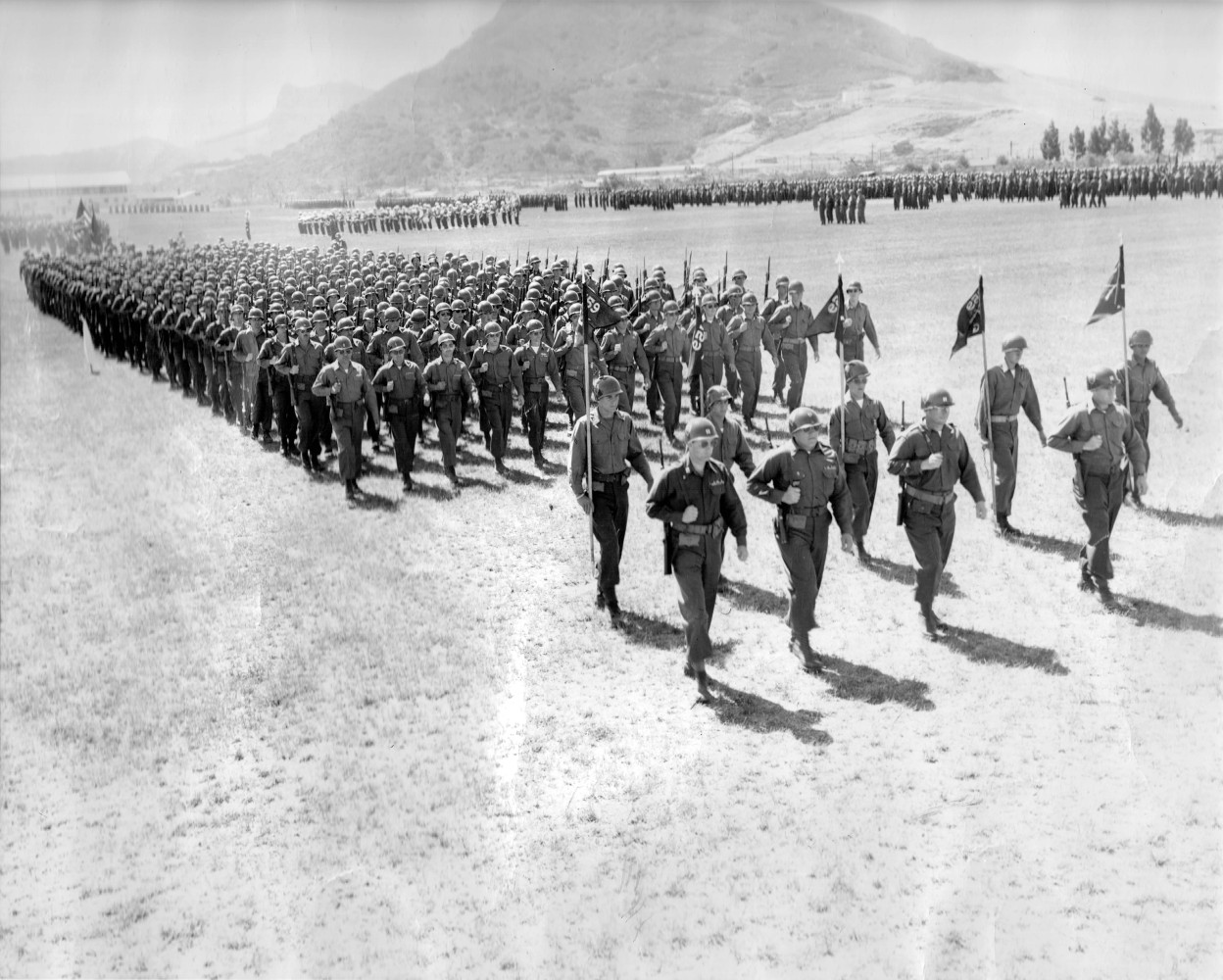 Above and left is a group photo taken in 1945 of Dad's training unit at Camp Moxey, Texas. He is standing in the middle of the group just behind the unit flag. Above and right is a photo taken sometime from 1946 to 1949 of Dad's ROTC unit from the University of Hawaii. Dad is the one to the far right marching at the front of the unit. They are probably in the center of Oahu at the parade grounds at Schoffield Barracks, but the photo could also have been taken somewhere in Honolulu. The photo to the immediate left shows Dad's California National Guard unit sometime in the 1950s, probably at Camp Roberts in California. He is the officer on the left side of the group of four Captains marching at the front of the unit.
---
Education and Career - When Dad got back from the Philippines, he transferred to the Army Reserves, and began studies at the University of Hawaii. Because he was a returning veteran, his education was covered under the recently passed GI bill, and the fact that he never completed High School did not matter. He moved back in for a time with Grandma and his Aunt Helen, which was convenient as the University was located in the same area of Honolulu as their Wilder Avenue house. He also enrolled in the Reserve Officer Training Corp (ROTC), to become an army officer, which provided him an additonal stipend to what he received from the GI bill. He also joined the University swim team, and competed in the butterfly and freestyle events.

Two years into his studies at the University, he began to feel that there was nothing left for him in Hawaii, so he transferred to San Jose State University in California. He continued ROTC, and the swim team, and joined the Theta Chi fraternity, residing in the fraternity house. His plan all along was to obtain a Bachelor of Science degree in Mechanical Engineering, but one of his fraternity brothers, Bill Cavanaugh, talked him into changing his major in the last year to Political Science. He completed this degree in 1952, and graduated two classes short of an engineering degree. His failure to follow through with his engineering degree would prove in later years to be a decision that he would regret many times.

Although Dad did not have an engineering degree, he considered himself an engineer. He was also a skilled draftsman, who could design buildings, understood electrical wiring and construction, and knew how to manage construction projects.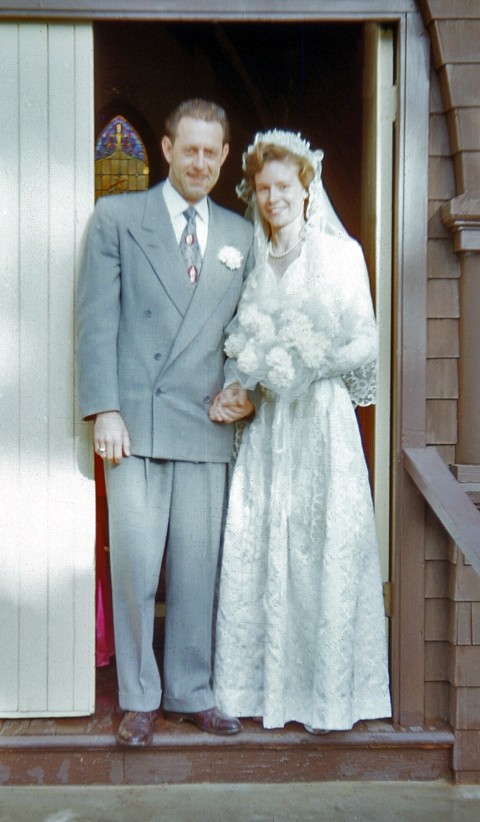 c.1951-c.1955 - Dad's first job out of college was working as a draftsman for the Planning Department of the City of San Jose, California. This was where he met our Mom, who was employed as a statistician for the city health department. They had a short engagement of just a few months, and were married on Jan. 12, 1952 at the old St. John the Baptist Episcopal church on Depot Hill in Capitola at the corner of Oakland Aveue and Escalona Drive The building where this church stood still stands, but it has been converted now to a private residence, and the actual church is housed nearby in a new building.

1953-1955? - Los Gatos apartment - When Dad first started working for the San Jose City Planning Department, he lived in a flat in the city, but when he married Mom they moved to an apartment somewhere in Los Gatos. They were living in this apartment in 1953 when I was born.

Fall 1956-Spring 1957 - Dad next got a job where he was a supervisor in charge of getting equipment to and from the construction site for the Palisades dam that was constructed near Palisades, Idaho. The dam at the time was the largest earth-filled dam in the United States, until it was surpassed by the San Luis Dam and Reservoir near Los Banos, California. I would assume that he worked as a civilian contractor for the U.S. Army Corp of Engineers, but I am not sure who his actual employer was.

Spring 1957-c.1958/1959 - When the Palisades Dam job came to an end, Dad found employment back in San Jose as a draftsman working for the Food Machinery Corporation and designing farm equipment.

1955 or 1956-Dec 1958 - 1370 Estrellita Way, Campbell, California - This house is located at the back end of a cul-de-sac, on the south side of the street, and it was within walking distance of San Thomas Elementary School where I went to kindergarten. The school has since been torn down, and the land is now the site of Jack Fischer Park. Our parents bought this house before the Palisades Dam job, and they returned here when the job ended. There was a willow tree in the backyard that Mom planted from a willow stick, which she brought back from her parents place in Santa Cruz. Grandpa told her that it wouldn't grow, but she stuck it in the ground anyway, and it grew into a beautiful tree. There was also a small side yard at the house where Mom planted several fruit trees. I believe that our parents sold this house for around $14,000, which was a lot of money in those days.

c.1958/1959-c.1968 - Dad's next job was at Kaiser Aluminum, where he was an engineer at their Permanente plant near Mountain View, California. The company made foil, as well as rolled auminum bars at this plant, which was next to the Permanente Limestone Quarry where the company also made cement. There was at least one other facility that made foil in Ravenswood, West Virgina, and I believe there may have been others. This job was a big break for Dad, and getting this job probably enabled our parents to buy the Saratoga house. Dad eventually rose through the ranks to become head engineer for the entire corporation. However, he had to do a lot of traveling to West Virgina and elsewhere, and he found the work stressful to the point where he got ulcers. He was also frustrated with his boss, a man named Hugh Bechus (I'm not sure of spelling), so he quit. Unfortunately, he was hampered in his search for a new job by the fact that he did not have an engineering degree (his college degree was in political science), and he was out of work for several months right around the time that I was a freshman in High School.

Dec 1958-July 1969 - 18998 Allendale Ave (19050 Camino Barco), Saratoga, California - This is an old ranch house built in 1925 that had been the country home in the late 1930s of Col. Ernest Terrill Barco, Sr. (1890-1964), who had served as a junior officer in World War I. His son Col. Ernest Barco, Jr. (1917-1997) served in World War II, and owned a real estate business in the 1960s in Saratoga. The son used to drop by from time to time when he came to check on a nearby property that he owned. My parents bought the place from the Gamper family, who had bought it from the Barcos. The Gampers were there only a short time, when they moved to a more modern place on Chester Avenue that was just down the hill on the south side from us. The "Colonel Barco House" is now considered historic by the City of Saratoga.

The Colonel Barco House had about 3,600 ft2 of living space, which seemd huge to us. All of this was on the second story, and the first story was a walk-in, ground-level basement with a laundry room, shop, and storage rooms, some with dirt floors, others with decaying concrete floors. There was also a third-story attic, but it was all dust and cobwebs up there with no stairs up to it, so it was not used. Water came from a well with a large wooden water tank, and there were several giant oak trees on the property. There was also a wood- and plastic-lined, hand-dug swimming pool.

My parent's idea was to get a large place out in the country, where my grandparents and Aunt Rosamond, who were not making ends meet financially, would be able to live with us. We divided the house into two sections, and we lived in one half, and my grandparents and Rosamond had the other half. However, Grandpa was there only a short time, as he died at home of kidney failure not long after moving there. The lot was fairly large with 1-1/4 acres made up of the main lot with the house and pool, and a hill on the front (north) side that sloped down to a 1/4-acre or so flat that was partially wooded with a stream called Wildcat Creek on the north boundary. We called this flat "Camp Clark", as our boy scout troop sometimes camped there. This lot now has a large fancy house on it.

A 1/4-mile dirt road that ran south off of Allendale Avenue was the only access to this property, and this same road also served our nearest neighbors the Spillanes and their daughter Anita Flack and her family, who lived on the north side of the creek from us in a 19th-century house that they claimed dated back to the Civil War. The south and east sides of our house were bordered by a 5-acre apricot and prune orchard that was worked by a man name "Stubby" Smith. Thus, our house was pretty much isolated on a hill top with orchard on two sides, and grass-covered slopes on the north and west sides. As everyone else we knew lived in subdivisions, we were considered to live out in the country.

Mom and Dad improved the Allendale house by re-roofing it and exchanging the wood shakes for composite roofing. They also poured concrete side walks around the place, and added a wheelchair ramp on the west side so that Rosamond could get in and out of her room easily. In addition, they buried a line of 1" flexible plastic pipe along the driveway to bring in city water, as the well we had was not reliable. Dad got a hernia from digging the ditch for this water line, and he used to have to wear a special belt to hold it in. He finally got the hernia repaired many years later after he retired and was living Soquel. There were other projects as well, and it seemed like something around the house was always being rennovated or repaired.

Dad was familiar with carpentry and design, and he also took on several building projects around the house. He built a new three-car garage to replace the old dilapidated one that was there, and he built a two-bedroom guest house for my grandmother and aunt Rosemond to live in. Dad and Mom also converted a back porch on the south side of the main house into a kitchen, and this was later converted into a bedroom for me when Grandma and Rosamond moved into the guest house. Rosamond stayed in the guest house for a short time after Granny passed, but she went to a nursing home when we moved to Soquel. All this building added value to the house, and I believe that my parents sold the place in 1969 for about $40,000, which meant that they sold it for two and a half times the price they paid for their first house.

The family who bought this house from us changed it quite a bit. They raised the house off its concrete foundations, repoured them, and converted the basement and attic into living quarters, which increased the size of the place to just under 5,000 ft2. They also put in a new swimming pool to replace the old one, and tore down the old water tank. The driveway was also altered, and access to the property is now from the end of Camino Barco. However, the last time I saw the property, the garage and guest house that Dad built were still standing.

c.1968-c.1969 - Dad was out of work for several months after he resigned fromn Kaiser, but he finally found employment as the Chief Engineer for Bud Antle Lettuce at their headquarters in Salinas, California. As we lived in Saratoga at the time, this involved a lengthy commute of an hour or more each day to work, then the same commute back home each evening. This resulted in our moving in the summer of 1969 first to Aptos, then three months later to nearby Soquel. While we were still living in Saratoga, there was talk for a time of his being moved to Bud Antle's facility in Tucson, Arizona, but nothing ever came of this. Unfortunately, the company went bankrupt after Dad worked there for a short time, and he found himself out of work once again.

Jun-Aug of 1969 - 3851 Vienna Drive, Aptos, California - This house is at the corner of Vienna Drive and Wiltshire in the Vienna Woods subdivision. It was a typical subdivision-type house, but it was just a short walk down a trail through the woods to Nisene Marks State Park, where I could go fishing in the afternoon and walk home in time for dinner. Just after moving here my parents found the place on North Park Avenue, right about the time it became evident that the Vienna Woods subdivion had water supply problems. Because the realtor had not revealed the water issue at the time of the sale, my parents were able to get their money back and buy the North Park Avenue house.

Aug 1969-1977 - 3600 N. Park Ave., Soquel, California - This was another place out in the country with a large lot and a hilltop view. The previous owners of the place I believe were a Mr. and Mrs. Girle, and they had named the house Seacrest, They told us that the house and garden were featured some years earlier in an issue of Sunset Magazine, but we never tried to track down the article. The house looked right down on New Brighton State Beach with the ocean beyond. There were three acres, with one acre of hill down the front of the house where we would graze our horses, one flat acre on top of the hill with the house, garden, chicken pens and horse stable, and one steep hillside acre down the back covered with giant redwood trees. The back lot had our well at the bottom, but because the hill was very steep and tree covered, we did not do anything with this part of the property. My parents converted the detached garage that was connected to the house by breeseway into three extra bedrooms, which exapnded the house to five bedrooms. We believe that my parents sold this house and property in 1977 for about $182,000, which was considerably more than the $32,000 that we think they may have bought it for, and left them with about $100,000 in the bank.

c.1969-c.1971 - There was a stretch of a couple of years following the Bud Antle job when Dad was self-employed and tried to make a go at running his own business. He and Mom tried their hand at raising earth worms for bait fishing, together with using a vacu-form machine that they bought for making plastic, magnet-backed signs for advertizing businesses and events on the side doors of cars. However, neither enterprise was very successful. The worm raising was tedious, and the harvesting a lot of work, with little income to make it worthwhile; whereas the magnetic signs were difficult to sell.

1971-1988 - Realizing that he would need to become re-employed, Dad again found himself hampered by the lack of an engineering degree, despite the fact that he did have a college degree, and considerable job experience as an engineer. However, he eventually did land a job with West Foods Mushroom Farms as their Maintenance Supervisor at their Soquel facility (and corporate headquarters), where the mushrooms were grown in air-conditioned, cement-block house. This was a family-owned company, and Dad worked for Freeman Bowers, who was related to the West family by marriage, and was the manager of the Soquel plant. The company also grew mushrooms at facilities in Ventura, California and Salem, Oregon. Although Maintainance Supervisor was a step down from Dad's previous jobs, West Foods made good use of Dad's skills, and he even designed, drafted and oversaw construction for the organization of a facility at the Soquel plant to grow, package and distribute mycelium, the mat-like network of rootlet-like structures in the soil/compost that mushrooms grow from.

West Foods was eventually bought by the Dole Corporation and became Castle and Cook Foods. This ultimately resulted in Dad being transferred for a stretch of almost exactly one year to their newly-purchased mushroom farm in Valmeyer, Illinois, where the mushrooms were grown in an old limestone mine dug into bluffs on the east bank of the Mississippi River. This mine, which covers 40 acres underground and was known as Columbia Quarry No. 3, was originally dug in the late 1800s to provided rock for roads and railroad beds. However, it was converted into a mushroom farm in 1939 and subsequently bought by Castle & Cook, who in 1983 shut the operation down. Today the mine is run as the Rock City storage facility.

Nov 1977-1978 - Rural Route 2, Waterloo, Illinois - This house, which today is at 1449 Floraville Road, was bought from a man named Boxmeyer, who owned a construction company. It was on a 1/2-acre lot that was located quite a ways out of town in a very rural area near the corner of Floraville and Gilmore Lake Roads. The backyard had a dock extending out onto a small lake that was maybe two acres or so in size. The lake had been dug by Boxmeyer, and he stocked it with bass and catfish. The fishing was fabulous, as some of the catfish caught here weighed several pounds, and were up to a couple of feet long. The lake also froze over in winter, which made for great ice skating, and neighborhood ice hockey games. There was one house next door, and maybe another half-dozen or so houses scattered around the perimeter of the lake. Otherwise the nearest neighbors were farms located some distance away. We believe that Mom and Dad bought this house for about $60,000, and that they sold it for maybe a little more.

Although the Illinois house had a great location, Dad did not enjoy the harsh winter weather, which became even more difficult for him to endure when he suffered a stroke that partially paralyzed his left arm. He ended up being operated on for the stroke at the Loyola University Medical Center in Chicago, where they took a vein from his neck and grafted it onto the side of his brain to restore the blood flow that had been disrupted by the stroke. It was an experimental operation, in which Dad was the first person the surgeon at Loyola had ever tried the procedure on. An interesting coincidence was that many years later when Dad relocated to Soquel, California his doctor there was a former student of the Loyola surgeon.

When he threatened to quit, he was transferred to Dole's Salem, Oregon facility as the motorpool superintendant. The company was sold again, and the new owners purged the organization of all of the old leadership, which resulted in Dad being laid off. The Soquel and Ventura facilities were eventually bought by Vaughn Paul, a friend of Freeman Bower's son Bobby, and a previous assistant to Dad at the Soquel plant. Vaughn Paul incorporated as King Mushrooms, but I believe that he ultimately went bankrupt, and neither facility, nor the Salem plant for that matter, exists anymore.

Nov 1978-1997 - 3342 Tanglewood Way, SE, Salem, Oregon - This house was a two-story place located on a one-acre lot in a rural area surrounded by redwood and cedar forest. There was a creek running along the back boundary of the yard, with a side lot where Mom had a great vegetable garden, and a few fruit trees. We believe that Mom and Dad bought this house for $74,000 and sold it for $198,000. They did not pay off the original loan on the house, but their monthly payments were only about $230/mo, which increased by another $110/mo when Dad took out a second to pay off some credit card debt after Mom passed away.

1988-1989 - When Dad was forced out of the mushroom company he once againfound himself hampered in getting an engineering-related job by the fact that he did not a college degree in Engineering, and he and Mom to make ends meet had to take minimum-wage jobs on the production line at the Santiam Cannery, where they prepared canned food and ran the canning machinery..

1989-1991 - Dad next picked up work on the maintenance crew at the Oregon State Hospital (Asylum) on State Street in Salem. This job payed quite a bit more than the cannery work, which allowed Mom to quit her job at the cannery and go back to being a house wife.

1991-1997 - Dad was finally able to get a job as an engineering draftsman for Peek Traffic Controls, a company on Mcgilchrist Street in Salem that made traffic signals. Because he did not have an engineering degree, he was not allowed to work on the electrical design of the signals, but he nonetheless found the work challenging and enjoyable. This was his first real exposure to working with computers, and he became proficient at using Auto-Cad to draft drawings of the signal boxes and wiring. Dad during his time at Peek was instrumental in helping the company bring to market the digital LED traffic signs with flashing text messages that are now widely used by Cal Trans in California. Ultimately though, Dad found himself becoming stressed, and when he complained to the management at Peek, they suggested that he retire and work for them part time as a consultant. He was very unhappy at first with this arrangement, but he quickly found that he actually enjoyed the new-found freedom of being a consultant. He evdently was highly regarded by the company, and they even set him up with a computer at home so that he could work from there at times and ease of burden of having to come in to the office each morning.

Jul 1997 - Although he seemed to believe that financially he would never be able to retire, his dream was to return to the Santa Cruz area. His outlook changed when he took a closer look at his situation, and realized that he was actually in pretty good shape financially. He and Mom had paid off their house years before, and he eliminated his car payments and credit card debt not long after she passed away, which gave him the financial security he needed to retire. He sold the Salem house, and moved to Santa Cruz, where he spent his last years happily fishing, and working on his various hobbies.

Aug 1997-July 1999 - 100 N. Rodeo Gulch Rd., Space 114, Soquel, California - Dad lived here in a trailer court that was located just a short distance from the West Foods Mushroom Farm where he had worked many years prior. He seemed to enjoy living here, and he went fishing regularly down by the yacht harbor and elsewhere. He especially liked fishing at the concrete pier near the bait shop on the north side of the Yacht Harbor. There was also family in town, as daughter Linda and her family lived nearby.
---
Final Years - Dad smoked cigarettes since he was 15 years old, and he contracted bladder cancer in later years, along with a touch of emphysema. These illneses inspired him to finally quit smoking, but a lot of damage had already been done to his health, and he was not consistant about going to see the doctor on a regular a basis. He died on July 7, 1999 at his trailer in Soquel at the age of 74 years. He was supposed to go to see the doctor that very morning, when he had an aneuryism as he was in the bathroom getting ready to go. He was already gone when daughter Linda arrived later in the morning to give him a ride to the doctor's office. His funeral service was held at St. Josephs Catholic Church on Monterey Ave. in Capitola. He is buried with wife Jackie in Salem, Oregon in the City View Cemetery, where he has a military tombstone provided by the army.