Harnes in the Middle Ages


(as told in maps and pictures)
The so-called "County of Harnes" is largely an invention of 19th-century historians to denote lands that were held by the medieval Lords of Harnes. The main part of these lands was Harnes itself, an area of marshlands where the main and upper forks of the Deule River come together. These marshlands were owned by the Abbey of St. Peters of Ghent, and they existed independant of neighboring fiefs and counties. But there were also outlying districts not owned by the abbey, such as Cuinchy and Salome, that were held in fief by the lords of Harnes from the Counts of Flanders, or the Dukes of Burgundy. Thus, the County of Harnes collectively refers to lands owned by the abbey, together with adjacent fiefs not owned by the abbey. However, Medieval chroniclers do not refer to a "County of Harnes" as such, and most likely the name was seldom used, if at all, in the Middle Ages.
| | | | | |
| --- | --- | --- | --- | --- |
| | | | | |
| Above are two pages from the Codex Manesse, a German illuminated manuscript. | | The medieval County of Harnes was made up of several villages that were clustered around the marshlands of the main fork of the Deule River, plus the village of Cuinchy to the north. The nearby town of Lens belonged to its own county, which extended to the south and east of Harnes. | | Most of Codex Manesse was completed ~1304, with some appendices added in 1340. |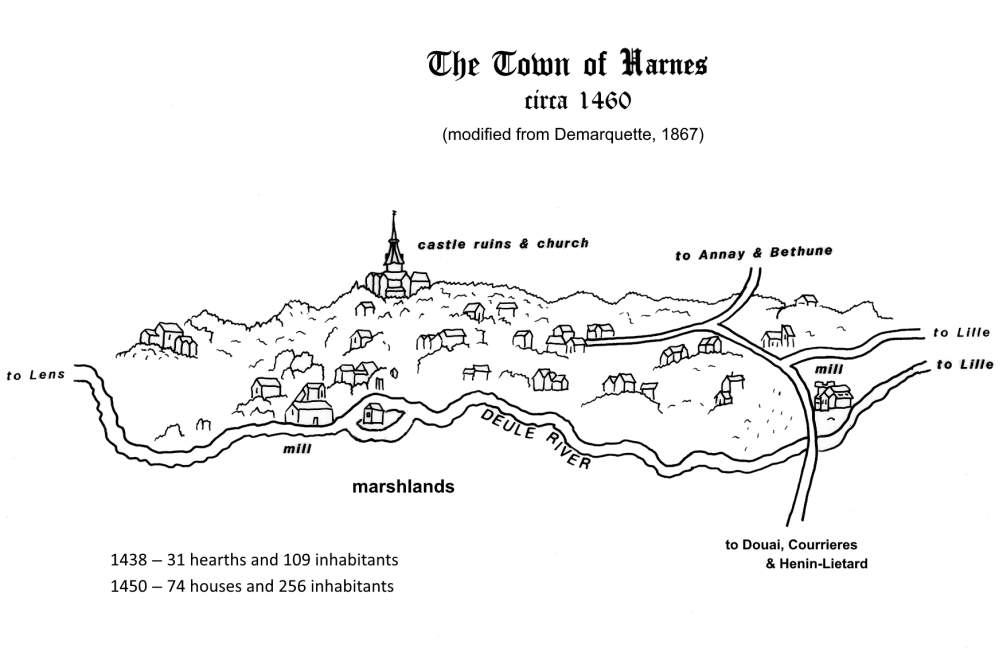 The village of Harnes was born when a church, and then a castle were built on a small hill rising up out of the marshlands of the Deule River. A community developed as dwellngs appeared to house servants and serfs bound to the lord of the place, followed by free men, like blacksmiths and tinkers, who also made their homes there.


---
---
Copyright © Michael S. Clark, Ph.D., 1998- - All rights reserved.