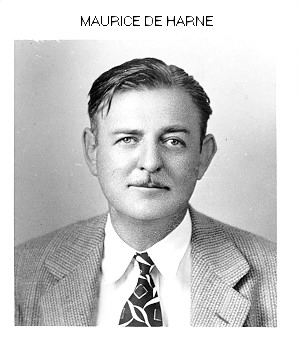 Dr. Maurice de Harne, a pioneer physician in Wahiawa, was born in Hawi, North Kohala, Hawaii on January 30, 1902. His parents were Emil de Harne, a teacher in North Kohala and Frances Clement de Harne, who was born in the Madeira Islands in 1867 and came to Hawaii in 1877.
Dr. de Harne attended the University of Southern California, Yale University and completed his medical studies at Columbia University in 1935. He interned at Bridgeport (Connecticut) General Hospital from 1936 to 1937. While there he met Helen Rachel Nichols, a nurse at the same hospital. They were married on her birthday, July 1, 1936, at Newtown, Connecticut.
The de Harnes sailed to Hawaii on the President Coolidge liner in 1936, and Dr. de Harne established practice at the Waialua Plantation in a new home adjacent to the hospital. He practiced there for seven years. In 1943, Dr. Merton Mack, who had been practicing in Wahiawa, invited Dr. de Harne to assume his practice as he wished to move to Kauai. The de Harnes moved to a home on the site of California and Kamehameha Avenues. Once again their home was right next to the hospital.
Dr. de Harne served in the U.S. Army Reserve from 1936 to 1945 and in the Hawaii National Guard from 1948 to 1953. Mrs. de Harne, meanwhile, continued her education in public health nursing and drove to the Hauula Hospital in the early years of their marriage. When they moved to Wahiawa, she became an active member of the Women's Medical Auxiliary of the Wahiawa General Hospital, first as recording secretary and later as president.
In 1943, Dr. de Harne was a medical director of the Wahiawa General Hospital and held fortnightly luncheon staff meetings. He was also a member of the Honolulu County Medical Society and the Hawaii Medical Association.
The Honolulu Advertiser (January 5, 1956) published an article in which Dr. de Harne admonished parents for firework injuries to their children. According to the paper, Dr. de Harne didn't have "an hour's peace from New Year's Eve until the next day ...He was saving an eye for one child, a hand for another, and picking glass out of a third child's body". Dr. de Harne said, "It's really not the kid's fault if he maims himself with fireworks. Yet he's the one who pays for it the rest of his life."
He had also treated severely burned children. One child who severely injured his eye had taken powder out of a firecracker bomb. He loaded it into an empty roman-candle tube. To the end of the tube he attached a garden sprinkler (the whirling kind) and lashed the whole works to his little red wagon. He had invented an airplane motor. He got in and lit the fuse. The explosion made hash of his face. Skin had to be grafted to parts of his body.
Dr. de Harne remarked,
I didn't bawl these kids out for what they had done. But I sure gave their parents hell.

I admired the ingenuity these children showed in figuring out those homemade devices that resemble modern machinery. That's natural for children, especially teen-age children. However, the fault for a child's injuries lies with the parents for permitting them to experiment with explosives... The fireworks are spectacular and make a lot of noise. But the noise and the flash go quickly. The injuries last a lifetime.
Dr. de Harne made news on October 29, 1961 when he was rescued by a fifteen year old boy after his small sailboat capsized off Kawailoa Beach.
Maurice de Harne retired from active practice in 1974. He particularly enjoyed reading and gardening in the beautiful, lush yard filled with orchids and tropical plants.
He died of Parkinson's disease on August 24, 1982. Besides his wife, he is survived by his daughters, Mrs. Buzz (Diane) Melvin and Denise de Harne. His brothers were Edward de Harne, president and general manager of the Honolulu Rapid Transit Co.; Paul de Harne of the Hawaiian Telephone Co.; and sisters, Mrs. G.H. Betz; Mrs. Ulysses Chelli; Mrs. D.G. Dwyne; Mrs. J.G. Walsh and Helen de Harne.
A plaque in Dr. de Harne's memory marking the new library at Wahiawa General Hospital was dedicated by Dr. William H. Wilkinson, who was a personal friend of the honoree for 30 years.
Dr. William F. McKenzie, who assumed Dr. de Harne's practice, wrote to Mrs. de Harne, "we have heard so many warm and nice things about him and we know that his loss is a loss to the community." Another wrote, "Dr. de Harne was a great doctor, a gentle man, and a gentleman."
Funeral services were held on August 28, 1982, at the family residence and a private burial at Mililani Memorial Park.