Genealogy of the Isham Family


(version July 1, 2022)
Please email corrections to Mike Clark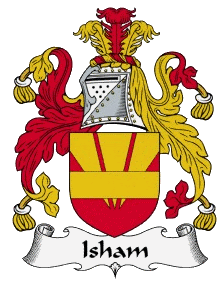 The family name of Isham is pronounced "Eye-shum", and comes from a Northamptonshire village of the same name, which derives in turn from a brook called the Ise that flows through the western part of the county. The family appeared as tenants here, and in the neighboring village of Pytchley, in the days of the conquest, and trace their descent from one Azor or Azo de Isham, who is mentioned in the Doomsday Book of 1085-1087 as holding the demesnes (fife) of Isham. Although various family members continue to be mentioned over the next five centuries, they did not truely come into prominence until 1568 when John Isham (1525-1595) made a fortune as a wool merchant and built the manor house of Lamport Hall in the Daventry District of Northamptonshire. His grandson Sir John Isham (1582-1651) further advanced the family fortunes and was created the first Baronet of Lamport in 1627 by King Charles I. Although the baronetcy survives, Lamport Hall is no longer the family seat, as the manor house and gardens are owned and maintained today by the Lamport Hall Preservation Trust as a museum for the public enjoyment.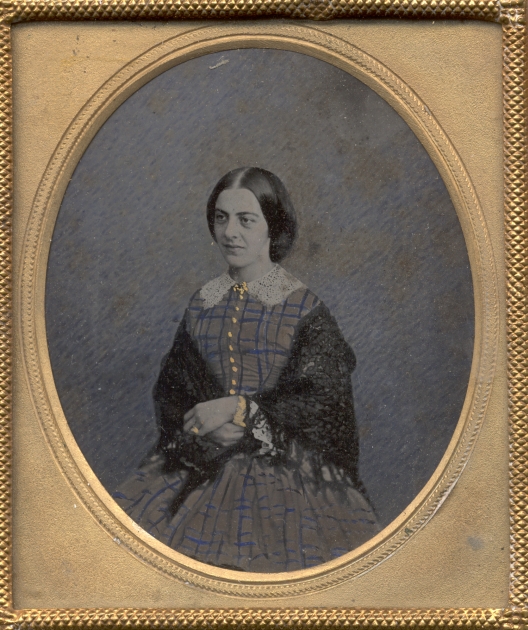 The Isham Family ancestors of Louisa Sophia Brietzcke are direct descendants of King Edward I of England, King Hugh Capet of France, and his ancestor Charlemagne.
Though uncertain, they may also descend from the Merovingian Kings, possible ancestors of Hugh Capet, who ruled ancient France in the waning days of the Roman Empire.
The buttons below lead to these lineages.

---
REFERENCES:
Betham, Rev. William (1801), "Isham of Lamport, Northamptonshire" in The baronetage of England or the history of the English baronets, Burrell and Bransby, London, v. 1, p. 298-306.

Brainard, Homer Worthington (1938), "The Isham Family in England" in A Survey of the Ishams in England and America; Eight Hundred and Fifty Years of History and Genealogy, Tuttle publishing company, Rutland, VT, p. 1-105. The pages referenced here are basically a rephrasing of Longden (1906). Also available online at FamilySearch.org.

Burke, John Bernard (1833), "Isham, Sir Justinian" in A general and heraldic dictionary of the peerage and baronetage of the British Empire, Richard Bently, London, v. 2, p. 5-6.

Burke, John Bernard (1858), "Sir Charles Edmund Isham, Bart." in Royal descents and pedigrees of founder's kin, Harrison, London, v. 2, Pedigree XVII. Click the link at right to access the original text.

Collins, Arthur (1741), "The English baronetage", Thomas Wotton, London, v. 2, p. 28-47.

Cooke, Robert (1568, 1869), The Visitation of London in the Year 1568: Taken by Robert Cooke, Clarenceux King of Arms, and Since Augmented Both with Descents and Arms (ed. by Joseph Jackson Howard and Sir George John Armytage, 1869), The Harleian Society, London, p. 17. This is a pedigree of the family collected by herald Robert Cooke in in 1568.

"Evans-Palmer and Allied Familes" on Ancestry.com. accessed Jan. 5, 2012.

"Euseby Isham" in The Peerage. accessed Jan. 5, 2012.

Isham, Edward Paul (1984), An Index of the Ishams in England and America: Nine Hundred Years of History and Genealogy, pubished by E.P. Isham, 732 p. Basically an updated version of Brainard (1938), with nothing new on the Ishams of Lamport Hall.

Isham, Gyles (1948), The Historical and Literary Associations of Lamport: A paper read at a meeting of the Northamptonshire Record Society, 27th September, 1947, Northamptonshire Past and Present, v. 1, n. 1, p. 17-32.

Isham, Sir Justinian (1687-1737), Parish register extracts from the notebook of an 18th century antiquary, Sir Justinian Isham, 5th Baronet, of Lamport, Northamptonshire: being extracts from the lost registers of Barby, Maidwell, Pytchley, and Rothwell in Northamptonshire, and from the register of Stoneleigh, in Warwickshire, University of California Librairies (digital publisher), 32 p.

Lamport, Northamptonshire, All Saints Church on the web page for Britain Express - Passionate about British Heritage has pictures of some of the Isham family monuments in the Lamport parish church. There is also an assortment of pictures on a Lamport, All Hallows webpage on Flickr.

Longden, Rev. Henry Isham (1898), Some notes on Sir Euseby Isham, of Pytchley in the county of Northampton: with special reference to his Virginian descendants, Mitchell and Hughes, London, 33 p. Available online at FamilySearch.org.

Longden, Rev. Henry Isham (1906), "Isham Family" in Northamptonshire Families (Victoria History of the Counties of England. Northampton. Genealogical volume - Edited by Oswald Barron), A. Constable, London, 380 p. Available as Microfilm 990095 at Family History Centers from the LDS Genealogical Library in Salt Lake City, Utah.


This is the definitive history of the Isham family of Lamport Hall in Northamptonshire, England as the author lived in Lamport village and had access to extensive family papers that are housed in the Lamport Hall archives and date back nearly 400 years. The first 105 pages of Brainard (1938), which are listed above and are more readily available to the researcher, are bascially just a rephrasing of Longden's work. Similarly, Isham (1984) adds nothing new on the Ishams of Lamport Hall, as the main emphasis of the text in Isham (1984) is on the American branch of the family.

Longden, Henry Isham (1907), The Diaries (Home and Foreign) of Sir Justinian Isham, 1704-1736, Transactions of the Royal Historical Society, Published by: Cambridge University Press on behalf of the Royal Historical Society, v. 1, pp. 181-203.

Vincent, Augustus (1624, 1887), Isham of Barby, Braunston, and Lamport in Visitations of Northamptonshire made in 1564 and 1618/19 with Northamptonshire Pedigrees from various Mss. (ed. by Walter C. Metcalfe, 1887), The Harleian Society, London, p. 181-182. This is a pedigree of the family collected by herald Augustus Vincent in 1624.

Waters, Robert Edmund Chester (1878), Genealogical Memoirs of the Extinct Family of Chester of Chicheley, their Ancestors and Descendants, Robson and Sons, London, p. 46-51.

Wikipedia, William Randolph - descendants, online website, last accessed on 1/20/2017.