Genealogy of the Bunyan Family


(version February 9, 2021)
Please email corrections to Mike Clark



children - Bunyan
James Bunyan (c.1778-1851) who follows:
Elizabeth Bunyan (c.1779-1854?) was probably born in Campton, Bedfordshire, as she was christened there on Dec. 12, 1779 in the parish church. She married a widower named James Flint (c.1784-1862) on Feb. 11, 1814 in Campton, and they moved at some point to Meppershall, near Campton, where some of their children were baptized. We then find them during the 1841 U.K. census in nearby Meppershall. Elizabeth is probably to be identified with the Elizabeth Flint who died in 1854 the Biggleswade Registration District, which includes Campton and Meppershall. Likewise, her husband is probably the James Flint who died in 1865 in the same registration district. Elizabeth and James had a son George Bunyan Flint (1819-1913), who emmigrated in 1872 to Canada and thence to Sherman County, Nebraska with several members of his wife and children. He is buried in an unmarked grave in Litchfield Cemetery in Sherman County, Nebraska, and he has descendants who still live today in the United States.
William Bunyan (b. c.1782) was born probably in Campton, Bedfordshire, as he was christened there on Jan. 31, 1782 in the parish church. He married Mary Wright (b. c.1786) on Feb. 3, 1815 at All Saints Church in Campton, and they had at least one child, a daughter named Sarah (1825-1883), who was baptized on Feb. 13, 1825 in the Campton Parish Church. Sarah by the age of 15 was living with her Aunt Charlotte, which leads one to speculate that her parents William and Mary may have passed on by then.
Mary Bunyan (b. c.1784) was probably born in Campton, Bedfordshire, as she was christened there on Jan. 4, 1784 in the parish church. She is a twin.
Sarah Bunyan (b. c.1784) was probably born in Campton, Bedfordshire, as she christened there on Jan. 4, 1784 in the parish church. She is a twin.
Thomas Bunyan (c.1788-1845) was probably born in Campton, Bedfordshire, as he was christened there on Nov. 30, 1788 in the parish church. He died in 1845 in Upper Gravenhurst, and was buried Jan. 14 at the age of 56 years in St. Giles Churchyard.
George Bunyan (c.1791-1819) was probably born in Campton, Bedfordshire, but his baptism is not listed in the Campton parish register. He died in Campton on July 25, 1819 at the age of 28 and is buried in the Church of All Saints graveyard next to his parents.
Charlotte Bunyan (c.1792-1876) was probably born in Campton, Bedfordshire, as she was christened there on Dec. 23, 1792 in the parish church. She apparently took over the care for her niece Sarah Bunyan (1825-1833) at some point, perhaps due to the death of Sarah's parents, and she and Sarah were living in Meppershall from 1841 to 1861 in the household of Charlotte's sister Elizabeth Flint. Charlotte died a spinster in 1876 at the age of 83 in the Biggleswade registration district.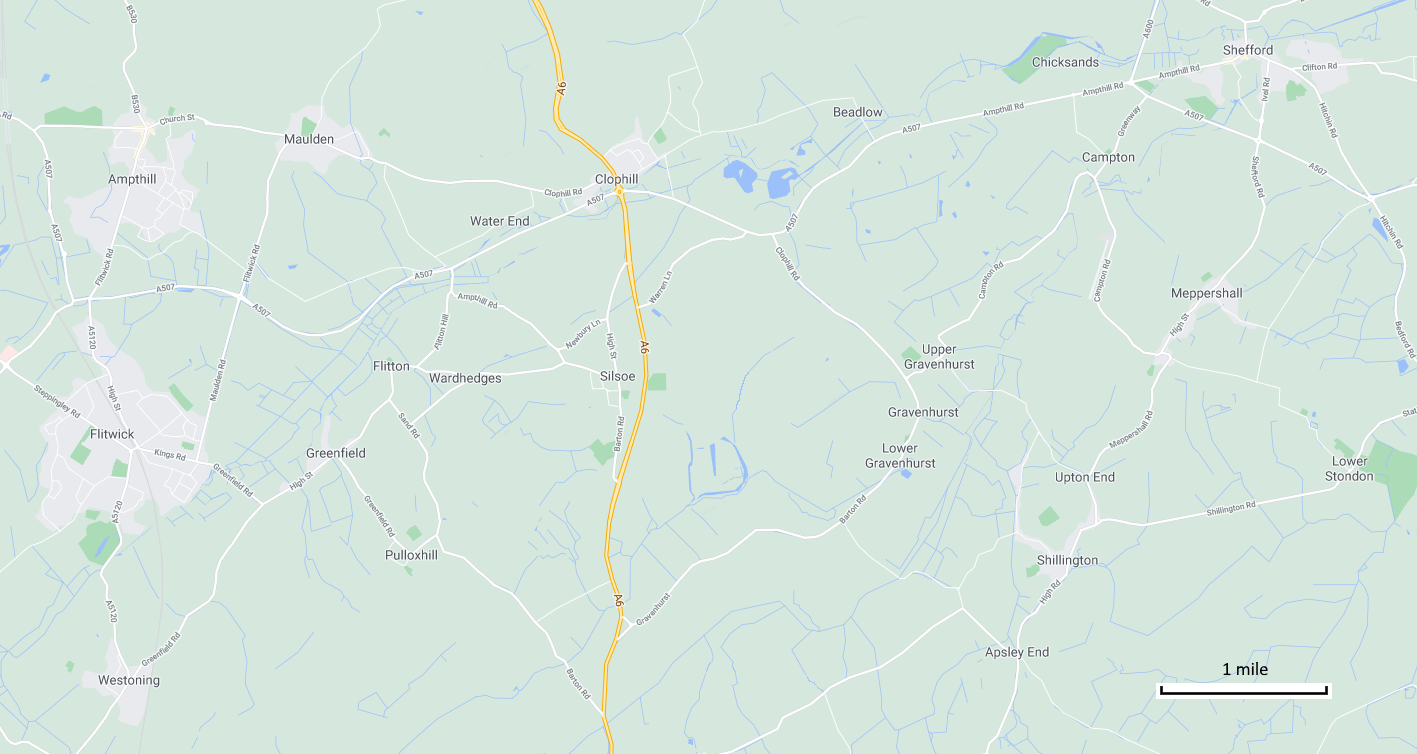 Rev. John Brown, D.D., the eminent 19th-century biographer of the famous John Bunyan, writes that Pulloxhill in Bedfordshire was the original home of the Bunyan family, and he names a few Bunyans who owned land here in the Middle Ages. He goes on to state that one branch of these Pulloxhill Bunyans moved in the 13th century some eight miles south to Chalgrave and Dunstable, whereas another branch moved nine miles north to Elstow, the 1628 birthplace of John Bunyan (Brown, 1885, p. 22-23). Other members of the family were living in Bunyan's time in Flitton, less than two miles north of Pulloxhill. Today there is a field in Pulloxhill known as Bunions Hill, and some believe that this refers to when this field was owned in the 13th century by Bunyan's ancestors. Yet others believe that this name is more recent and refers to when John Bunyan was arrested near here in November 1660 while on his way to deliver a sermon at Lower Samshill (near Westoning). A couple of miles southwest of Pulloxhill is the now dead stump of Bunyan's Oak, a famous local landmark where Bunyan once preached.

---
REFERENCES:
Bedford Borough Council Community Archives (online source - formerly the Befordshire Virtual Library):

Timeline for Campton (see entry for date 1983)

Arnold, Clive (2020), The Bunyan Family Tree, Pilgrim House Elstow, 1 p. This pedigree is the one supported by the Moot Hall (Meeting Hall) Museum in Elstow, the birth place and home of John Bunyan. Part of the mission of the museum is preservation of the buildings, artifacts and letters associated with John Bunyan.

Clive Arnold is the curator for the Moot Hall (Meeting Hall) Museum in Elstow, and he has researched and published the most comprehensive (to date) version of the Bunyan family tree. He also helps "people, who think they may be related to the Elstow Bunyans, to check their genealogy. Unfortunately, there is much incorrect data about this family on genealogy websites, which misleads many into thinking they are Bunyan's descendants. Sadly, we have yet to find a verifiable living descendant of the Elstow Bunyans."

Clive also has two websites related to the Bunyan family of Elstow. One on John Bunyan's Bedford, and another on Elstow Village, which is where the famous John Bunyan was born. The latter site also has a section on John Bunyan's Family and Life with a current version of the Bunyan Family Tree.

Bedfordshire Family History Society, Transcripts of Bedfordshire Parish Registers, including baptism, marriage, and burial records (and in some cases memorial inscriptions) of Campton and Shefford, Flitton (with Silsoe), Lower Gravenhurst, and Upper Gravenhurst. Published by Bedfordshire Family History Society, and available on CD from The Parish Chest.

Brown, John, 1885, John Bunyan: His Life, Times and Work (1928 Edition): Riverside Press, Cambridge, p. 397-426.

UK Census Records, 1841-1901 and Parish Baptism, Marriage and Burial Records: online databases available on Ancestry.com, Familysearch.org, and Find My Past.

Dew, Clarice O., 1985, Philip and Sarah Elizabeth Dew: A History and Record of Their Lives and Descendants 1816-1985: Privately Published, Wauchope, Australia, 63 p. Available from the Salt Lake City Family History Library. Call Number 929.294 D51.

Emmison, F.G.(editor), Bedfordshire Parish Records, Published by the Bedford County Record Office, Shire Hall, several volumes with publication beginning in 1931.

FamilySearch.org - Online Genealogy Databases

Urwick, William, 1888, Pedigree of the Family of John Bunyan in Bible Truths and Church Errors, Including a Lecture on John Bunyan Not a Baptist: T.Fisher Unwin, London, p. 104. A pedigree based on the research of Brown (1888), which is referenced above.

Vital Records Certificates (Birth, Marriage, Death) from 1837 to the present for Great Britain available from the General Register Office.