Welcome to the Clark Family Home Page!

Hi there! Somehow you managed to stumble onto the Home Page of Mike and Janet Clark of Bakersfield, CA. Mike grew up in Santa Cruz (Soquel High School Class of 71), Janet grew up in Suisun Valley (Fairfield High School Class of 75), and both of us went to the University of California at Davis. Mike also has a Ph.D. from the Colorado School of Mines and works as a consulting petroleum geologist, and Janet used to teach 2nd grade at Louden Elementary School. Our kids are Jennifer and William, both born in Colorado. We would love to hear from any friends or relatives who happen to find our little corner of cyberspace. Click our names below to send us an email.
---
Below is a picture of some members of our family.
We also have a link to pictures of the rest of us.
(Patience, all those pictures can take awhile to upload)
There are a lot of other great home pages out there on the internet, and probably the ones that we like the best are the CAMPING ones. But seriously folks, below are links to some of our favorite web sites . . . go check them out.

Bella Vista Ranch (Home Page of the Carty Family!) - Mike webmasters this one!


Boy Scout Troop 484 (this is William's troop!) - Mike webmasters this one!


California Outdoors (has cross-country skiing too!)


California Wellsample Repository - Mike webmasters this one!


City Net (travel the world)


Earthquakes (info from the U.S.G.S.)


Lawn and Garden tips

Mauser Rifles (Turkish and Czech Models) - temporarily out of commission


Mudsmeller's Shooting Page (gun info) - temporarily out of commission


Phone Directory (this site has international phone directories too!)


Rock and Roll (learn about all the hot bands from past and present)


Rurp Hardman and the Bigwall Kids - Mike webmasters this one!


San Joaquin Geologic Society - Mike webmasters this one!


Southern Sierra High Adventure Team - Mike webmasters this one!


Warner Brothers Web Cards

Bakersfield, CA (this is where we live)


Weird Sightings on the Web (for all you X-Files fans)


Lots of Windows shareware, tips, and tricks (Definitely worth checking out).


We also have a Genealogy Home Page on the Family Tree Maker web site, but the "good stuff" on the family history sits in our own Clark and Carty Family History web site.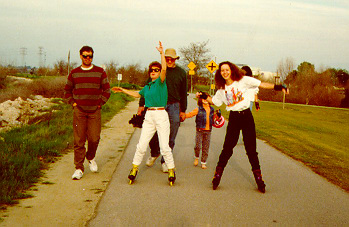 Questions? Comments? Click here

to let Mike know about them.

You are visitor number

to stumble onto our Home Page.

| | |
| --- | --- |
| | Copyright © 1998-2003 - Michael S. Clark |